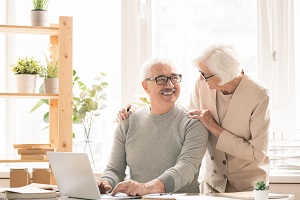 Many people plan ahead to prepare for their death. Many people also pay in advance for their final arrangements, although this is not required. Here are some common questions you may have about pre-arranging and prepaying.
Pre-arranging and Prepaying
It saves your family and friends from having to make many difficult decisions during a time of grief

It gives you a say in planning your own arrangements

It gives you time to assess and compare your options

It helps family and legal representatives who will be making arrangements at the time of need.
Your Prepayment Checklist 
Keep the following documents in a safe place where your legal representative(s) can find them easily and give a copy to the person who will likely be making the arrangements.
Your Provider will give you:
A contract that sets out the services and supplies you requested and their price. This contract must be signed by you and the Provider. If the contract includes embalming, you will be asked to provide written consent for this step

An interment or scattering rights certificate (once these rights are paid in full)

A receipt for the money you paid to be placed in trust OR a copy of your insurance documentsˆ

Copies of any other documents you sign.
For your own records, you should keep:
Your cancelled cheques or electronic payment records

Receipts as proof of payment.
Remember to ask:
About the advantages of paying with your money held in a trust

Where your money will be invested

What your refund will be if you cancel your insurance policy

About the guarantee. All prepaid contracts entered into on or after July 1, 2012 must be guaranteed

If you can cancel the contract and what fees may apply.
Important: After your death, your legal representative (such as the estate trustee, etc.) may, by law, change your pre-arranged funeral, burial or cremation plans. It is important to discuss your wishes with him or her and your family.
Do I have to pay in advance?
No, it is a choice. You can simply pre-arrange your services or supplies without prepaying. Some Providers may keep a record of your arrangements without cost; ask your Provider about this service. If you decide to prepay, your Provider will ask you to sign a contract. See "Your Prepayment Checklist" in this guide.
How can I prepay my contract?
You can pay the money to the Provider to be held for you "in trust." This means your money will be held safely for you at a bank, trust company or with an independent trustee. It will earn income over the years until it is needed to pay for the services or supplies you have requested. The income earned will be used to offset any increase in costs.
You will sign two contracts:
A prepaid contract with your Provider for the services and supplies you choose
An insurance contract (called "the policy") with the insurance company to pay the Provider for the services and supplies. The insurance contract will set out the rules you and the insurance company must follow. This includes any fees you may have to pay, your right to cancel the insurance contract and any rights to a refund you may have.
Important: If you don't understand what your Provider is asking you to sign or to pay for, please ask your funeral director to clarify!
If I prepay, what happens if prices go up?
At the time of death, the money held in trust will be used to pay for the services and supplies set out in the contract. Costs will be based on the prices in effect at the time of death. Whether you will be required to pay more depends on whether your contract is guaranteed (see below).
Your Provider must give the legal representative a statement to show:
The amount your insurance will pay for your prepaid services or supplies OR the amount held in trust to pay for them (including income earned)

The current cost of the services or supplies you requested.
If prices have gone up, the income (interest or growth) is used to offset the increase in costs.
If you have a guaranteed contract:
You (or your legal representative) will not be asked to pay more for the services or supplies you requested, as long as you have met all the terms of your contract. Taxes are not guaranteed. You will have to pay extra for any services, supplies or taxes that were not included in the prepaid contract. All prepaid contracts entered into on or after July 1, 2012 must be guaranteed.
If you have a non-guaranteed contract signed before July 1, 2012:
You (or your legal representative) may have to pay more money to cover the higher prices. For example, if you have an existing non-guaranteed contract for which the price of services and supplies is $8,000 at the time of death, and the value of the trust or insurance is $7,500, your estate will owe the Provider $500.
What happens if there is money left over after everything in the contract is paid for?
The answer depends on the date of your contract and the laws that applied at the time you signed. For cemetery or crematorium contracts entered into on or after April 1, 1992 and funeral or transfer service contracts entered into on or after June 1, 1990, leftover money will be paid to the estate. The law does not require a refund be made for contracts entered into before these dates.
What happens if I want to cancel or change my prepaid contract?
You, your legal representative or another person named in the contract may cancel or change your prepaid contract at any time before the services or supplies are provided. You must give the Provider notice in writing. You may or may not get all your money back. The following rules apply:
If your money was to be held in trust and you cancel within 30 days of the date you entered into the contract, you get all of your money back.
After 30 days, you get all of your money back less 10% of the amount in trust, up to a maximum of $350.
If you had an insurance contract through the Provider, you may cancel the contract with the Provider and you may have to cancel the insurance contract as well. Talk to your Provider before you cancel your prepaid contract with them. Most insurance contracts have a "cooling-off" period, which is a specific number of days during which, if you change your mind, you can cancel the contract and get all of your money back. After the cooling-off period, the amount refunded is usually less than the full amount you initially paid. Review the insurance contract or speak to the insurance company for details.
Important: Cancellation fees for an insurance policy vary. They can be high. Before you buy or cancel an insurance policy, you should discuss the insurance provider's cancellation policy.
Note: Also, you will have to review the terms of the contract to see how much money, if any, would be refunded if services or supplies have been provided.
What happens at death?
Your legal representative should take your pre-arrangement documents to the Provider to show proof of payment, discuss arrangements and any changes to the contract.
If a service or supply is no longer available, one of two things may happen:
Your Provider may make a reasonable substitute, but at no extra charge. Substitutions must be similar in style, design and construction to what is included in your contract.
Your legal representative may cancel that part of the contract. Written authorization or a new contract must be completed for any changes or added items.