In Ontario, cremation and funeral service providers like Tranquility are prohibited by law from selling cemetery plots. You will have to purchase a plot directly through a cemetery.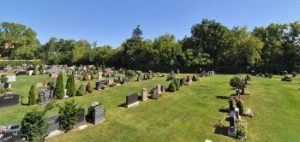 Tranquility is not affiliated with any one cemetery. However, thanks to our many years of experience, we are familiar with all the cemeteries in our area and we can advise you on their pricing, staff and other considerations.
This is much easier than having to phone various cemeteries yourself, one by one.
If you wish, we can even accompany you to your appointment at the cemetery offices. Naturally, Tranquility can take care of all preparations and cemetery transportation considerations when you make your funeral arrangements through us.
Most cemeteries have a chapel you may choose to use to hold services; again, we will make all these arrangements if you wish. As always, Tranquility is dedicated to helping you save money without sacrificing dignity and quality.
We invite you to contact us to discuss all your options concerning local cemeteries and other aspects of funeral services.