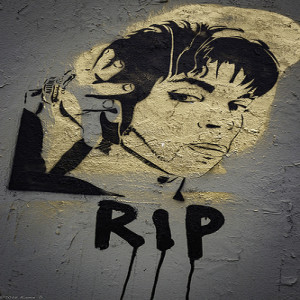 2016 has been an unforgiving year in music — and we haven't even gotten to the second quarter of it yet. The likes of Maurice White, David Bowie and Papa Wemba are now storming the heavens with their otherworldly talent. Now, the latest to join the heavenly concert is Prince Rogers Nelson, better known as the wildly iconic Prince.
"It is with profound sadness that I am confirming that the legendary, iconic performer, Prince Rogers Nelson, has died at his Paisley Park residence this morning at the age of 57," his rep told Los Angeles TV station KTLA.
Publicist Anna Meacham said the singer's "final storage" would be kept private.
"A few hours ago, Prince was celebrated by a small group of his most beloved: family, friends and his musicians, in a private, beautiful ceremony to say a loving goodbye," she said.
The groundbreaking and prolific singer, songwriter and performer was found dead in a lift on his Paisley Park estate, near Minneapolis, on Thursday. The cause of death continues to be unknown and autopsy results will most likely take at least four weeks.
Rolling Stone writes: "Carver County Sheriff Jim Olson reports that on April 21st, 2016, at about 9:43 am, sheriff's deputies responded to a medical call at Paisley Park Studios in Chanhassen," the sheriff's office wrote in a statement. "When deputies and medical personnel arrived, they found an unresponsive adult male in the elevator. First responders attempted to provide lifesaving CPR, but were unable to revive the victim. He was pronounced deceased at 10:07 am."
Career spanning four decades
Prince stood out as the multi-genre iconoclast that gave him an edge above everyone else. Seamlessly transitioning from R&B and soul to funk, pop and rock, Prince was a driving force in music unlike any other.
Upon debuting his first album in 1978, he embraced controversy by presenting himself as an androgynous symbol in his albums and performances.  He dared to challenge conservative music ideals with his albums like 1999 and Purple Rain.
Throughout the years, he won countless awards and remained one of the humblest, most grounded yet powerful voices in the industry. According to Rolling Stone, "His first major trophy was a Grammy for his Purple Rain album in 1984; that same year, he also won a Grammy for writing "I Feel for You," which Chaka Khan had made a hit. The next year, he took home an Oscar for the Purple Rain score in 1985. The following year he earned another Grammy for "Kiss," and won two more in 2004 for the songs "Musicology" and "Call My Name," both of his 2004 album Musicology. In 2007, he earned another for "Future Baby Mama," off his Planet Earth LP. He won several MTV Music Video Awards dating back to the mid Eighties and he won a Golden Globe for "The Song of the Heart," which appeared in Happy Feet."
Born of jazz and unapologetic class
Born Prince Rogers Nelson on June 7th, 1958 in Minneapolis, he was the son of John Nelson, the leader of a jazz band in the area, and his mother, Mattie, was a vocalist for the ensemble. "I named my son Prince because I wanted him to do everything I wanted to do," his father once said.
Being the talented and gifted artist that he is, Prince learned to play the piano at a tender age of seven, guitar at 13 and drums, the year after. He would later go on to become one of the biggest stars the music industry has ever known.
"When I first started out in the music industry, I was most concerned with freedom. Freedom to produce, freedom to play all the instruments on my records, freedom to say anything I wanted to," he said when he was inducted into the Rock and Roll Hall of Fame in 2004.
Prince was a runaway success, garnering him pop chart hit after hit, Purple Rain — his biggest selling album of all time as well as a simultaneous #1 single and film, "Let's Go Crazy" and "When Doves Cry."
Knowing no bounds, Prince dipped his toes into acting. "He starred in the 1984 blockbuster Purple Rain and would go on to appear in 1986's Under the Cherry Moon and 1990's Graffiti Bridge, the latter two of which he also directed. Additionally, he wrote the screenplay for Graffiti Bridge," writes Rolling Stone.
His was a career shrouded in mystery, secrecy and supremacy. HITnRUN Phase One, was released last year and he had been touring as recently as this month. To everyone he left behind, it is Prince's latest and last album.
Prince's death followed medical treatment during his Piano and a Microphone tour, saying that he was "fighting the flu". Just days before his death, he was seen out and about. He is survived by his sister, Tyka who is set to inherit $800-M.
http://tranquilityfuneralservice.com/wp-content/uploads/2017/07/Screen-Shot-2017-07-11-at-4.20.50-PM-300x81.png
0
0
http://tranquilityfuneralservice.com/wp-content/uploads/2017/07/Screen-Shot-2017-07-11-at-4.20.50-PM-300x81.png
2016-04-23 00:00:00
2016-04-23 00:00:00
Genre-Defying Artist, Prince Dies at 57