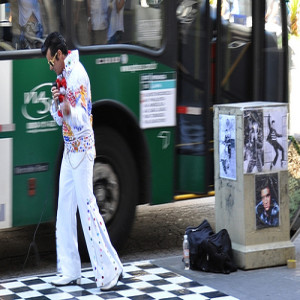 Funerals vary from one service to the next. Guests may pay tribute to their departed in different ways but if there is one common way to show their honor and gratitude, it's through a song.
There are countless funeral hymns out there, some most popularly selected are that of the King of Rock and Roll himself — Elvis Presley. Born Elvis Aaron Presley, the charismatic American singer and actor is still one of the most influential musicians of all time. His songs have become anthems for all seasons and for just about every kind of occasion today.
From My Way to I'm Leaving, the iconic crooner continues to touch lives with his timeless, heartfelt songs in funeral services. Today, we are going to look at yet another one of his renowned hits, Memories, which is also widely used during burials the world over.
The title itself immediately emanates a sense of recollection, one that is prevalent especially during a tragic loss of a loved one. We remember the days we have spent with our departed and how mournful it feels to no longer have the chance to make new memories with them.
As we go through the lines of the song, let us explore how it embraces the tragedy of death and celebration of life.
Memories, pressed between the pages of my mind / Memories, sweetened thru the ages just like wine
Here, the song starts with reminiscing about the life we've lived with our beloved. Despite all the daily musings and distractions we face, we hold on to these sweet memories and go back to them as much as we can — most especially when this beloved has already passed on. Just like wine that only gets better as it gets older, our memories of the deceased grow stronger each passing day.
These lines echo that our loved one may have already passed away but we will continue to cherish and honor them through our memories.
Quiet thought come floating down / And settle softly to the ground / Like golden autumn leaves around my feet / I touched them and they burst apart with sweet memories / Sweet memories
Whenever we suffer the loss of a loved one, our minds get clouded. Sometimes, we end up questioning why things happen as they do or why that person was taken away too soon from us. It becomes overwhelming that at times, we wish for our minds to settle down and think of the better days that passed and will come.
Positive thinking becomes tremendously challenging during these moments. It's tough to make sense of these things but sometimes, it helps for us to focus on the sweet memories we had, the beautiful days we spent with the departed and the thought that s/he is already in a much better place.
These sweet memories help us to move from mourning to acceptance. The fonder days help us believe that our departed have already left the pains of this world and is now resting and at peace.
Of holding hands and red bouquets / And twilight trimmed in purple haze /And laughing eyes and simple ways / And quiet nights and gentle days with you
As we go through the grief, the memories of better days will help us get through these rough times. Whenever we think about losing that person, we try as much as we can to fill our minds and hearts with good thoughts and well wishes.
It is never easy losing someone you love. We feel left behind, even abandoned at times but somehow, we are sure that these sweet memories of the past will be the guiding light towards closure.
Truly, loss is an unfathomable pain. Yet, the lines of the song makes us hopeful and positive for we have all these memories that are ours, that we can always go back to each time we want to.
Memories is a song that perfectly captures how it feels to have loved and lost. It embraces both the sadness and joy life and death bring to us. No matter how tough losing a loved one may be, the days we have spent with them will help us go through each and every day.
http://tranquilityfuneralservice.com/wp-content/uploads/2017/07/Screen-Shot-2017-07-11-at-4.20.50-PM-300x81.png
0
0
http://tranquilityfuneralservice.com/wp-content/uploads/2017/07/Screen-Shot-2017-07-11-at-4.20.50-PM-300x81.png
2015-08-12 00:00:00
2015-08-12 00:00:00
Memories by Elvis Presley