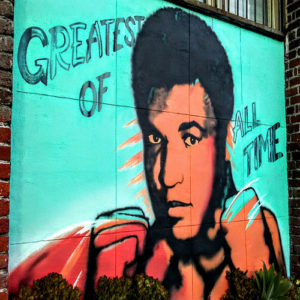 Three-time world heavyweight champion, the most charismatic boxer, the enigmatic philanthropist, the civil rights champion, the "black god" and "The Greatest" — Muhammad Ali was known for many things throughout his well-lived lifetime. To say that he has lived his life to the fullest is a complete understatement.
It was June 3, 2016 when Ali passed on at the age of 74 after thirty two  years of battling Parkinson's Disease. "After a 32-year battle with Parkinson's disease, Muhammad Ali has passed away at the age of 74. The three-time World Heavyweight Champion boxer died this evening," Bob Gunnell, a family spokesman, told NBC News.
His exit was just as grand as his entrance to stardom. Muhammad Ali's obituary came in all forms and lengths. However, all universally regarded the man as a force to be reckoned with.
A Young Emblem of Excellence
Born Cassius Marcellus Clay on Jan. 17, 1942 in Louisville, Kentucky, Ali lived a middle-class life with his parents Cassius and Odessa Clay. Young Cassius was neither a scholar nor the brightest of his batch at school.  He could barely read or write when he graduated from Central high school in 1960, and ranked 376th in the graduation out of 391. Despite his educational struggle, Ali believed that he was destined to be part of something else, something bigger than he could've imagined.
He started boxing at a young age of 12, winning Golden Gloves titles before heading to the 1960 Olympics in Rome, where he won a gold medal as a light heavyweight. Over the course of the next few years, Ali contested a further 107 junior bouts, and two national Amateur Athletic Union titles, which was the time he chosen for the US team for the 1960 Olympics.
One of his early highlights was the final stretch of the 178lb (light-heavyweight) division when the 18-year-old defeated the three-times European champion Zbigniew Pietrzykowski, of Poland.
"This madcap kid doesn't even hold up his guard. He just dances and sways – and punches in lightning flashes." Neil Allen's wrote in his report in the Times: "The American has given the impression of being so much a showman that we have waited throughout the tournament for someone to wake him up with a solid punch. Nobody has, and in the final last night Clay, like some loosely strung marionette, put his punches together in combination clusters and pummelled the Pole about the ring. Only great courage kept the triple European champion on his feet. We still have not seen whether the new gold medallist can take a punch but I expect him to be among the professionals next year so we shall know his worth soon enough."
Cassius, appropriately named among the stars that watch over the meager Earth, went on to have 56 wins, 5 losses, 37 knockouts, not to mention the myriads of awards and recognitions he received along the way including man of the century, sportsman of the century, and personality of the century.
The Boxer Beyond the Ring
Cassius wasn't just known for his god-like abilities in the ring. He was after all human, feeling for the rest of mankind and their struggles. Ali traveled to many countries such as Mexico and Morocco, to help out those in need. In 1998, he was chosen to be a United Nations Messenger of Peace because of his work in developing nations. At one point, he was even involved in the release of US hostages in Iraq.
The profound man was also known for his efforts in defending the black community and Muslims. A Muslim convert himself, one of his prevailing testaments was condemning Donald Trump's remarks against Muslims living in the USA.
He once famously said: "My enemy is the white people, not Vietcongs or Chinese or Japanese," Ali told one white student who challenged his draft avoidance. "You my opposer when I want freedom. You my opposer when I want justice. You my opposer when I want equality. You won't even stand up for me in America for my religious beliefs and you want me to go somewhere and fight but you won't even stand up for me here at home."
Human After All
In recent years, his heath declined dramatically and was one of the most prominent voices behind battling Parkinson's Disease. "I'm in no pain," he told The New York Times. "A slight slurring of my speech, a little tremor. Nothing critical. If I was in perfect health — if I had won my last two fights — if I had no problem, people would be afraid of me. Now they feel sorry for me. They thought I was Superman. Now they can go, 'He's human, like us. He has problems.' "
In an essay he wrote and read by his wife, the champ said: "I never thought of the possibility of failing, only of the fame and glory I was going to get when I won," Ali wrote. "I could see it. I could almost feel it. When I proclaimed that I was the greatest of all time, I believed in myself, and I still do."
Ali is survived by his fourth wife, Lonnie; and by two sons and seven daughters.
http://tranquilityfuneralservice.com/wp-content/uploads/2017/07/Screen-Shot-2017-07-11-at-4.20.50-PM-300x81.png
0
0
http://tranquilityfuneralservice.com/wp-content/uploads/2017/07/Screen-Shot-2017-07-11-at-4.20.50-PM-300x81.png
2016-08-22 00:00:00
2016-08-22 00:00:00
Remembering "The Greatest" Muhammad Ali