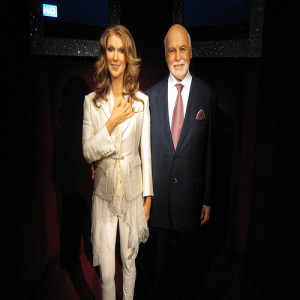 Celine Dion is considered one of the most revered singers of our time. The "My Heart Will Go On" star credits her widely acclaimed success after her husband and former manager, René Angélil who passed away on the eve of his 74th birthday on January 14 2016.
"Rene Angelil passed away this morning at his home in Las Vegas after a long and courageous battle against cancer," Dion tweeted. "He was feeling better lately," a source once told Us magazine. "He was still handling her business and managing her, so this is a complete shock."
Dubbed a Renaissance man, Angélil was well respected as a producer who discovered Dion and played a pivotal role in the singer's stardom stature. To his deathbed, both of their lives were intertwined. However, when they first met, Dion was only a child, with her brother sending Angélil a demo tape of her singing, "It Was Only A Dream".
"I listened to it right away, and I couldn't believe it," he once told The New York Times in 1997. "She wasn't the cutest 12-year-old. She had a problem with her teeth, and she was very shy, but her eyes were incredible."
Born in Montreal on Jan. 16, 1942, René Angélil quickly became a household name in the entertainment industry in Quebec. He once sang as part of the French-Canadian pop group the Baronets and also previously managed the career of another Quebecois child star, Ginette Reno. After hearing the demo tape, it didn't take long for him to be firmly in the business with Celine Dion.
"At that time I had been in the business for 20 years," Angelil said in a 1991 interview with The Associated Press. "In those 20 years, I had never heard or had a feeling come out of someone like this little girl I had in front of me. I had shivers all over, you know."
He knew that Dion was destined to be a superstar. He began managing her career in 1981 and even sold his home to back her first album, which turned into a hit in French Canada and France.
Under his direction, Ms. Dion turned into an easily recognized name in Quebec. She accomplished her first taste of universal notoriety by winning the Eurovision Song Contest in Dublin in 1988.
Her first American hit came two years after the fact with the arrival of her first English-language album. It didn't take long until her big name was secured when she sang the title track of the 1991 Disney film "Beauty and the Beast," which won an Academy Award in 1992.
Angélil guided her career closely in those years. Soon, the two decided to merge their professional and personal lives in 1994, marrying in a luxurious wedding ceremony at the Notre Dame Basilica in Montreal. He was 26 years older than Dion.
It was in 2003 when Dion decided to leave recording and touring behind. She decided to take up a multimillion-dollar residency in a custom-built, 4,100-seat theater at Caesars Palace in the lavish Las Vegas. This is where she and Angélil, an avid gambler, planned to put down their roots. Her first show lasted five years and a second, launched in 2011, was scheduled to run until 2019.
However, everything changed when René Angélil was diagnosed with cancer in 1999. In a dramatic turn of events, which was coined "a miracle", Angélil Dion's first child, René-Charles Angélil, was born two years later, and a set of twins, Nelson and Eddy, came after in 2010.
Despite the treatments, his cancer returned during their wedding anniversary in 2013. The radiation treatment had damaged Dion's husband's hearing and that he was eventually unable to use his mouth. She fed him through a feeding tube three times a day, the singer recalled, and took a break from show business to focus on him and their children.
"I do this myself," she once said during an interview with ABC. "I feed my husband, and I feed my kids, and unfortunately I had to say, Listen, I can't be half here and half over there, please allow me to stay home."
She returned to the stage in August 2014 at her husband's urging, she said. "We are creating this show together," she said to Entertainment Tonight last May. "He wants me back, he wants me strong."
The singer continues to fondly recall her final moments with her husband. "Sometimes he just wants me to enter into a different place with him," she explained. "I'll say, 'You're scared? I understand. Talk to me about it.' And Rene says to me, 'I want to die in your arms.' Okay, fine, I'll be there, you'll die in my arms."
http://tranquilityfuneralservice.com/wp-content/uploads/2017/07/Screen-Shot-2017-07-11-at-4.20.50-PM-300x81.png
0
0
http://tranquilityfuneralservice.com/wp-content/uploads/2017/07/Screen-Shot-2017-07-11-at-4.20.50-PM-300x81.png
2016-02-10 00:00:00
2016-02-10 00:00:00
René Angélil, Celine Dion's Husband & Former Manager Dies at 74