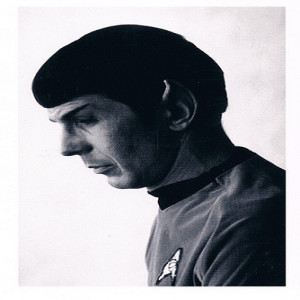 Last February 27, 2015, one of the most notable characters on TV and film has passed away. We all know him as a half human and half Vulcan alien on television aboard on the starship Enterprise and was captivated by his intelligence and wit. Leonard Simon Nimoyor known simply as Leonard Nimoyis an American actor who played Spock. He was born on March 26, 1931 in Boston Massachusetts. He started acting at the age of 8 in a neighborhood theater. He took drama classes at in Boston College and took note of Konstantin Stanislavsky's Method acting.
With his death, his friends, family, and fans could not quite put the right words to describe their loss. Some used his famous lines as funeral quotes and some decided to talk about the loss via social media. William Shatner, his co-star on Star Trek and one of his closest friends, was not able to attend his funeral and decided to pay his respects by expressing his heartfelt thoughts on Twitter and answering the question of fans. He talked about the memories that they have shared onscreen and off-screen and how he remembers his longtime friend.
Zachary Quinto, who played the younger Spock, talked about Leonard was helping him take on the role of his younger version. They soon bonded and became really good friends. Zachary looked up to him like a dad. His visited Leonard last January and talked for hours. He was sick at that time. They exchanged emails after that. On an interview, Zachary revealed that he felt that it was the last time he was going to see him.
A lot of fans paid tribute to the actor. The internet was filled with fans writing their warmest condolences about the actor's death and shared some of their favorite lines from the actor. Funeral flowers were laid on his Hollywood walk of fame star. To his friends, he was someone who is loyal and is a great friend. To his family, he was a caring dad and a loving husband. To his fans, he is Spock. To the world, he is a good example of hard work and of never giving up. Webid goodbye as you continue your voyage aboard the starship Enterprise. Rest well, you have lived long and prospered.
http://tranquilityfuneralservice.com/wp-content/uploads/2017/07/Screen-Shot-2017-07-11-at-4.20.50-PM-300x81.png
0
0
http://tranquilityfuneralservice.com/wp-content/uploads/2017/07/Screen-Shot-2017-07-11-at-4.20.50-PM-300x81.png
2015-03-08 00:00:00
2015-03-08 00:00:00
Romhalan Spock