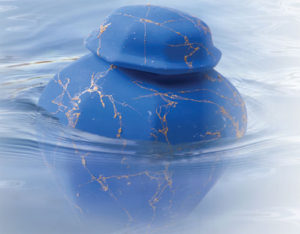 One of the most common ways to handle the remains of a deceased is through cremation. When cremation process has been carried out, the body of the departed turns into ashes and the rest of the bulky parts are then pulverized to be mixed with the ashes.
If the family has opted for cremation, funeral services for the deceased are still undertaken but instead of displaying the coffin in front, the cremation urn that is filled with the ashes is placed with a picture of the late beloved family.
After the service has been done, most people ask what they can do with the ashes. Aside from keeping some, many families also scatter the ashes at the sea.
Here is the full report about sea cremation:
Laying to rest the remains in the sea through ash scattering has already been a practice for many years. This has always been a tradition not only for people who love bodies of water but also for those who wanted to be at peace because waters signify serenity.
Today, scattering ashes in the sea is done as a symbolism. Many people who love to go fishing and enjoy travelling usually request that their families spread their ashes and remains in the ocean.
When you want to carry out a sea cremation, there are certain things that you need to consider. First, you have to look for a location where you will scatter the ashes. There are some who just throw the ashes in the cliff but there are others who really would like to rent out a boat so that the remains can be scattered more evenly in the sea. You will then need to assess the number of people who would take part in the event so you would know the size of the vessel to be rented.
Many people opt for cremation because the funeral prices are much lesser compared to a traditional burial. To get a killer deal for cremation, you can ask different companies that offer cremation services to give you their price list so that you can choose properly.
As the ashes are being scattered, different songs may be played to bring out the emotion from everyone. Most sea vessels are already equipped with a sound system.
http://tranquilityfuneralservice.com/wp-content/uploads/2017/07/Screen-Shot-2017-07-11-at-4.20.50-PM-300x81.png
0
0
http://tranquilityfuneralservice.com/wp-content/uploads/2017/07/Screen-Shot-2017-07-11-at-4.20.50-PM-300x81.png
2012-07-16 00:00:00
2012-07-16 00:00:00
Understanding Sea Cremation