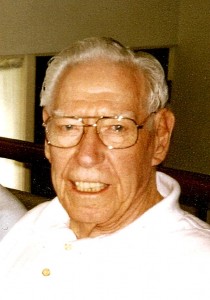 In his 89th year, Rod died peacefully on Tuesday, December 4, 2012 at Credit Valley Hospital from heart disease and dementia. Born in London, England, Rod came to Canada in 1927. He was an only child of parents Edith (nee Smith) and Wilfrid Whitern and grew up in Toronto, Ontario.
At the age of seventeen, he joined the Royal Canadian Air Force where he served for four years in England and was a veteran of WWII. It was here he met and married his loving wife, Inez Tremayne Mary Kirkbank. They were married December 2, 1944 and eventually settled in Toronto, Ontario. Here, Rod earned his degree in Engineering & Business at the University of Toronto (class of 1950), and went to work for General Electric for the next 33 years. In 1963, Rod moved to Clarkson, Mississauga, where he and his wife Mary raised their two daughters in the family home.
After retirement, Rod and Mary enjoyed many trips and cruises until his health began to decline. Rod loved traveling and gardening along with playing golf with good friends. He also liked watching war documentaries and classic movies and was an avid sports fan that enjoyed Hockey Night in Canada. Sadly, dementia and heart disease stripped all of this away and he spent his final days in hospital. Rod was a perfectionist in all his endeavors and lived life on his own terms. He was an excellent handyman who knew how to build and renovate most things inside or outside of the home. Rod was a loving and selfless supporter, mentor, and advisor to his family and friends.
He will be sorely missed. Rod is survived by his devoted wife of 68 years, Mary Inez, and his daughters Christine Whitern (Toronto, ON), and Susanne Whitern-Hofer, his son-in-law Hans Hofer and three grandchildren Tina, Michael and Nicole Hofer (all of Qualicum Beach, B.C.), and his cousins abroad Jo Miller (Florida, USA), Maureen, Jennifer, and Mark (UK) and Mary Whitern (UK). The family would like to thank all the doctors and nurses at Credit Valley Hospital involved in his complex care, and especially Alek for her compassionate support. There will be no service by request. A private family gathering was held in his memory. It would be appreciated if donations to remember Rod were given to the Alzheimer's' Society of Peel to help others with dementia.
http://tranquilityfuneralservice.com/wp-content/uploads/2017/07/Screen-Shot-2017-07-11-at-4.20.50-PM-300x81.png
0
0
http://tranquilityfuneralservice.com/wp-content/uploads/2017/07/Screen-Shot-2017-07-11-at-4.20.50-PM-300x81.png
2012-12-06 00:00:00
2012-12-06 00:00:00
Whitern, Rodney (Rod) Wilfrid