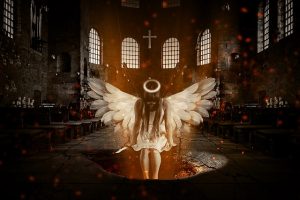 Spend all your time waiting
For that second chance
For a break that would make it okay
There's always some reason
To feel not good enough
And it's hard, at the end of the day
I need some distraction
Oh, beautiful release
Memories seep from my veins
And maybe empty
Oh, and weightless, and maybe
I'll find some peace tonight
In the arms of the angel
Fly away from here
From this dark, cold hotel room
And the endlessness that you fear
You are pulled from the wreckage
Of your silent reverie
You're in the arms of the angel
May you find some comfort here
So tired of the straight line
And everywhere you turn
There's vultures and thieves at your back
The storm keeps on twisting
Keep on building the lies
That you make up for all that you lack
It don't make no difference
Escape one last time
It's easier to believe in this sweet madness
Oh, this glorious sadness
That brings me to my knees
In the arms of the angel
Fly away from here
From this dark, cold hotel room
And the endlessness that you fear
You are pulled from the wreckage
Of your silent reverie
You're in the arms of the angel
May you find some comfort here
You're in the arms of the angel
May you find some comfort here
Angel by Sarah Mclachlan is a slow song and a harrowing tune that evokes grief to anyone who listens to it. The lyrics was written in tribute to musician Jonathan Melvoin who died from heroin overdose in 1996. Her inspiration for the song also came from the articles she read about artists who succumb to drug-use because of the pressures of fame and success. She stated that though she's not a heroin user herself, she understands the struggle of the artists that lead to them being addicted to the abuse of substances as a means for escape the rigidity and coldness of the entertainment industry. 'Angel' captures succinctly the constant figurative battering that artists receive without light at the end of the tunnel and how this brings despair to each aspiring soul, tempting them to opt for some sort of release, if only briefly, through the use of illegal substances such as heroin.
The slow tempo of the piano keys and the hollow sounds coming from synthesizers all coalesce into a melody that's full of grief and yet contrasts on the somewhat hopeful tone of the lyrics that's filled with words like 'peace of mind', 'angels', 'beautiful release' and a sense of redemption from the drudgery of 'waiting', 'vultures', 'thieves' and 'storms'. The first lines of the song even offers a glimpse of the struggles a musician or an artist faces early on in his career. "Spend all your time waiting/  For that second chance/ For a break that would make it okay", is a concise and accurate story of all who tried to make it into the scene and fails and hoping the next one would be his the big break.
The subsequent feelings of despair that may have been caused by repeated rejections and failures that makes every day seem hard to deal with might lead some to seek a 'distraction', and with a mention of 'memories [that] seep from my veins', alluding heavily to the use of heroin.
The chorus then tells us of a hope of having "the arms of an angel", take them away from the "dark cold hotel room" which can be a metaphor for the emptiness that a person feels as well as a literal dark and cold hotel room which they find themselves to be in while taking the heroin. Either way, literally or figuratively speaking, it's a lonely place nobody wants to be in. This reinforces the quiet despair many artists struggle with in their careers.
The second verse tells us of the toxic people that may surround an artist at any given point in time as they were described in the lyrics as "vultures and thieves" at one's back. This can refer to opportunistic talent agents, people jealous of an artist's achievements to the general public who can't give them a little bit of privacy – you take your pick. This only adds to the baggage that an artist may deal with in addition to the internal turmoil he is already grappling against.
The verses close by stating "It don't make no difference/ Escape one last time/ It's easier to believe in this sweet madness/Oh, this glorious sadness/ That brings me to my knees", which is a declaration of surrender, of giving in to escapism in the form of illegal drugs/heroin. Though the song does not explicitly mention death, the lack of salvation that the lyrics and the tone offers tells us that this is quite heavily implied.
Angel is a funeral song fitting if you know somebody who was crushed by the same fate and will go rightly in your funeral ceremonies. If this is a song you think you would like to have played in a funeral that you're planning, contact us to so we can make the proper arrangements.
http://tranquilityfuneralservice.com/wp-content/uploads/2017/07/Screen-Shot-2017-07-11-at-4.20.50-PM-300x81.png
0
0
funeralservices
http://tranquilityfuneralservice.com/wp-content/uploads/2017/07/Screen-Shot-2017-07-11-at-4.20.50-PM-300x81.png
funeralservices
2018-05-19 15:51:02
2021-04-06 20:45:05
Angel By Sarah Maclaughlin