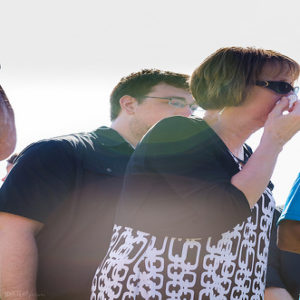 Dealing with the death of a loved one is the most excruciating ordeal people go through. While it may be difficult for one to act in a supposed "certain" way when they lose someone they love, proper funeral etiquette remains as an essential part of the occasion particularly among those who are attending and offering their condolences.
When we refer to funeral etiquette tips, we're not merely referring to how one must behave when they're in a funeral. It also entails what to say and what not to say.
If you are about to attend a funeral, then consider this guide to help you practice proper manners and be instrumental in keeping the sanctity and solemnity of the funeral.
Wear something proper
Each funeral is unique. Some prefer a festive one while others encourage a less-conservative means of celebrating the person's life. Unless specified, it is still best to wear something smart and appropriate for the occasion. Try not to wear red or other bold hues that may otherwise be distracting. Also, try not to wear something that shows too much skin. Also, do not take comfort for granted. You'd want to wear something that will keep you at ease throughout the ceremony.
Observe cultural and religious practices
If you are invited to an observance that have certain cultural or religious practices unfamiliar to you, don't hesitate to ask more about it. You can also do your own research to double check whether or not you've applied it correctly before heading to the funeral. The last thing you want is stealing the show, and not in a good way.
Be on time
Being late for a funeral shows your lack of respect to the departed, the ceremony as well as the people who are there as well. If it can't be helped that you're going to arrive after the service or during, try your best to be as quiet as you can. Try not to call the attention of anyone because it's the kind of distraction that doesn't sustain the occasion's solemnity.
Refrain from using your cellphone
We live in such a digital world that sometimes, the somber and quiet mood of a funeral becomes close to impossible no thanks to the amount of phones ringing and beeping. Others even go as far as posting pictures live on their social media. Never forget why you went to a funeral in the first place. You are there to pay your respects and be in the present. If you do need to take a call, quietly step outside instead.
Know what to say and what not to say
Again, funeral etiquette isn't just about your behavior during the service. It's also about knowing what to say and what not to say. Funeral Resources made a simple list of the phrases that are ideal to say during such trying times, along with those that you need to avoid like a plague.
What to Say:
"This must be very painful for you."
"You must have been very close to him/her."
"I can only imagine how hard this is on you."
"I'll really miss him/her. He/she was a very special person."
"We're thinking of you and wish we could do something to comfort you."
"We care about you and we love you."
"He/she was an inspiration to us and to so many others."
Even a simple "I'm sorry for your loss. How are you doing?" shows genuine sorrow and sympathy.
What Not to Say:
"I know how you feel."
"He/she is in a better place now."
"It was his/her time to go."
"He/she is no longer suffering."
"Time is a good healer."
"I know someone who had it much worse."
"Try to move on from this."
Anything beginning with "At least…"
If in case you can't attend the funeral..
In the event of missing the funeral itself, there are still ways you can make it up to the bereaved family. Again, there are proper ways to go about these things. So if you can't make it to the funeral, commit to doing the following:
Send a message of sympathy
Whether it's a phone call, a text message or a card, it's always best to send a message of sympathy. Avoid the following phrases when sending out a message:
It's awful, but when your time is up, it's up
I know how you feel
Be sure to stay busy, they say it is the best way through this
At least he went peacefully
Know that he's in a better place now
You must stay strong through this
This was probably a blessing in disguise rather than to continue suffering
At least he is no longer in pain
It's truly sad he died so young
Only the good die young
Send a gift or contribution
The next step is to send something that will help ease the pain somehow or show your oneness with the family. Whether it's flowers or a monetary contribution, choose something you trust will help your loved ones during this challenging time.
http://tranquilityfuneralservice.com/wp-content/uploads/2017/07/Screen-Shot-2017-07-11-at-4.20.50-PM-300x81.png
0
0
http://tranquilityfuneralservice.com/wp-content/uploads/2017/07/Screen-Shot-2017-07-11-at-4.20.50-PM-300x81.png
2016-09-16 00:00:00
2016-09-16 00:00:00
Helpful Funeral Etiquette Tips