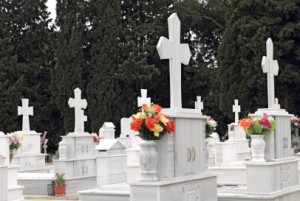 For a traditional funeral, the cemetery plot is one of the components in the funeral prices and expenses. In order for the body to be buried, a plot must be purchased either after death or before death through a funeral plan.
Choosing a plot may sound easy but you definitely need to take some time in considering numerous options. The first thing that you must do is to research about the requirements for a burial in your city.
Here are other tips that you might find useful:
Location is very important. A major influence when choosing a cplot is the location of the cemetery. There are cemeteries within the city and there are also those that are found in the suburbs. When choosing a location, decide on what you want. Do you want your families and friends to be able to visit the site easily or do you want a secluded area?
Know your budget. Just like any other expense, buying a cemetery plot would need proper budgeting. Look into the prices of the plots from the cemeteries that you have found around your area. You do not have to choose the cheapest one but you need to choose a plot that fits both your budget and your preference. Some plots are expensive because the cemetery is in a good location while others may be cheap because of low plot maintenance.
Identify the type of burial you want. The burial can be traditional or green. The type of burial that you choose will matter since cemeteries may only allow traditional burials or just green burials depending on the location. This should be reflected on the details of your insurance during the funeral planning stage so that the appropriate cemetery can also be chosen based on the funeral type of your preference.
http://tranquilityfuneralservice.com/wp-content/uploads/2017/07/Screen-Shot-2017-07-11-at-4.20.50-PM-300x81.png
0
0
http://tranquilityfuneralservice.com/wp-content/uploads/2017/07/Screen-Shot-2017-07-11-at-4.20.50-PM-300x81.png
2013-05-06 00:00:00
2013-05-06 00:00:00
How do You Choose a Cemetery Plot