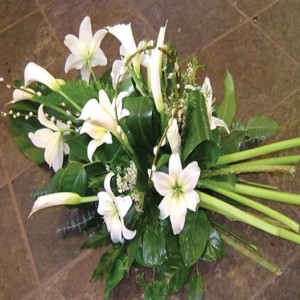 If you wish to show sympathy to the friends and family of someone who has recently passed, it is customary to express your sentiments with flowers. When you attend a funeral service you will often notice the flowers that have been contributed by grieving relatives, friends and the bereaved are laid out on the floor, in a communal garden in a church, or in a separate area near the crematorium.
The giving of flowers at a funeral is a good choice, as it provides a tribute to the person or loved on recently lost. It also serves as a reminder of the closeness you wish to convey to the other mourners during the grieving period.
The flower most often used in funeral services is the lily. Lilies mean the soul has now restored with innocence following death. Lilies are a majestic and pure flower and in a service you will often find this flower tossed around the coffin or on top of it. But most wreaths are made of lilies and often appear perched upon an easel or stand next to the coffin or leaning up against it while in the hearse.
Gladioli play in a prominent part in many funerals as the flower represents morality, a strong character and there always appears to be something sincere about them. Carnations are another flower that always seems to be present when a service is being held – in funerals they symbolise remembrance and a chance to always associate the long-lasting fragrance with one who has departed. But be sure to choose the right colour of carnation, as in many traditions the white carnation represents unrequited love, harmony and innocence, where as pink would normally represent the memory of the loved one, now departed.
Roses always play an important role in all types of services and are often seen as part of an arrangement, or in a bouquet with other flowers at a funeral like lilies, chrysanthemums, carnations, and gladioli.
In Europe, chrysanthemums are often placed by the grave and are symbolically used only at funerals or cremations. In North America, the flower has often been used in some weddings too; however, in virtually every other part of the world it is a flower that symbolizes grief and lament.
White and pink orchids are often used as love symbolisms at funerals and are popular as gestures of sympathy to those suffering bereavement.
http://tranquilityfuneralservice.com/wp-content/uploads/2017/07/Screen-Shot-2017-07-11-at-4.20.50-PM-300x81.png
0
0
http://tranquilityfuneralservice.com/wp-content/uploads/2017/07/Screen-Shot-2017-07-11-at-4.20.50-PM-300x81.png
2014-05-13 00:00:00
2014-05-13 00:00:00
The Meaning of Funeral Flowers