"My Little Girl" – performed by Tim McGraw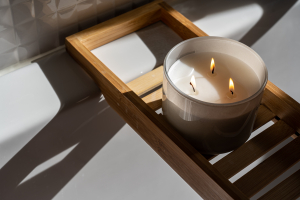 Gotta hold on easy as I let you go
Gonna tell you how much I love you
Though you think you already know
I remember I thought you looked like an angel wrapped in pink, so soft and warm
You've had me wrapped around your finger since the day you were born
[Chorus]
Your beautiful, baby, from the outside in
Chase your dreams but always know the road that'll lead you home again
Go on, take on this whole world
But, to me, you know you'll always be my little girl
When you were in trouble, that crooked little smile could melt my heart of stone
Now look at you, I've turned around, and you've almost grown
Sometimes you're asleep I whisper "I Love You!" in the moonlight at your door
As I walk away, I hear you say, "Daddy, love you more!"
Your beautiful, baby, from the outside in
Chase your dreams but always know the road that'll lead you home again
Go on, take on this whole world
But, to me, you know you'll always be my little girl
Someday, some boy will come and ask me for your hand
But I won't say "yes" to him unless I know he's the half
That makes you whole, he has a poet's soul, and the heart of a man's man
I know he'll say that he's in love
But between you and me, he won't be good enough!
Your beautiful, baby, from the outside in
Chase your dreams but always know the road that'll lead you home again
Go on, take on this whole world
But, to me, you know you'll always be my little girl
The song "My Little Girl" was performed by Tim McGraw and it was written by Stephen Kellogg, Javier D. Colon, and Alissa Hayden Moreno.
Many people use this song as a part of their wedding song list and it is usually played during the father-daughter dance. But this song can also be used for the funeral services of a dad or a daughter.
It can be played for the funeral of a dad because the lyrics of the song tell the listeners that he wants the best for his daughter even if he is gone in this world. At the same time, the song can also be applicable in the death of a daughter since if the song plays in the background during the burial or the service, the father will forever remember his daughter as a very special part of his life even if his daughter has already passed away.
The song always hits the heart of many daughters when they hear it because they remember their dads and how they have always been protective of their little girls.
For other selections of funeral songs, you should visit www.songmeanings.net.
https://tranquilityfuneralservice.com/wp-content/uploads/2012/11/pexels-castorly-stock-3654619-scaled.jpg
1707
2560
admin
http://tranquilityfuneralservice.com/wp-content/uploads/2017/07/Screen-Shot-2017-07-11-at-4.20.50-PM-300x81.png
admin
2012-11-29 00:00:00
2022-03-20 22:39:43
"My Little Girl" – performed by Tim McGraw