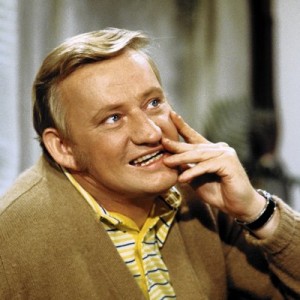 Comic actor Dave Madden passed away on January 16, 2014 in Jacksonville, Florida, after combating with complications brought about by myelodysplastic syndrome.  He was 82.
Madden was known as Reuben Kincaid, the child-hating agent in the popular 1970's sitcom "The Partridge Family".  While the sitcom starred Shirley Jones and her real-life son, David Cassidy, it was Madden and Danny Bonaduce who brought the comic relief in the show.
According to Jones, Madden's relationship with Bonaduce in the show is what made it work.  However, in his memoir entitled "Reuben on Wry" which he wrote in 2007, Madden admitted that he and Jone's husband, Marty Ingels never got along, which limited his relationship with her as a result.
Madden was a far-cry from his on-screen persona.  As a matter of fact, He loved kids.  Bonaduce even wrote later that he served as his surrogate father, during the teen's troubled youth.
His other love was photography, often taking his camera on set to take pictures of the cast, crew and guest stars.
Born in Ontario Canada, he grew up in Terre Haute, Indiana.  His journey towards stardom started in a nightclub as a comic.  His first acting stint is in the short-lived sitcom "Camp Runamuck" in the mid 1960's.
Before his shot to fame in "The Partridge Family", Madden became part of the ensemble in the "Laugh-in" comedy series.  Some of his antics include sipping and sometimes spitting milk as well as joining the show's gags, sketches and jokes.  He also appeared in the long-running sitcom, "Alice", as one of the customers in Mel's diner.
Madden's other TV appearances include "Love, American Style", "The Love Boat", and "Fantasy Island.".   Some of his most recent works include voice work for the videogame "The Curse of Monkey Island" and narration for the TV show "Herman's Head".
Throughout the span of his career, he has befriended many fellow actors, including Alan Young, Pat Morita of the "Karate Kid" movie series fame, Richard Gautier, Dan Rowan, and Jonathan Winters.
Madden was survived by his wife, daughter and son.  Friends, fans and loved ones dedicated funeral songs and offered funeral flowers during his wake.
http://tranquilityfuneralservice.com/wp-content/uploads/2017/07/Screen-Shot-2017-07-11-at-4.20.50-PM-300x81.png
0
0
http://tranquilityfuneralservice.com/wp-content/uploads/2017/07/Screen-Shot-2017-07-11-at-4.20.50-PM-300x81.png
2014-01-31 00:00:00
2014-01-31 00:00:00
"Partridge Family" actor passed away at 82