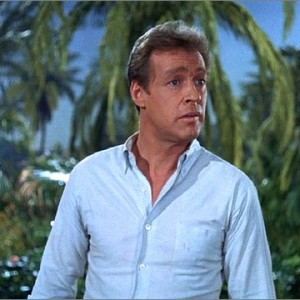 Fans and cast members of the popular 1960's sitcom, Gilligan's Island, mourn the death of actor Russell Johnson at the age of 89.  He was known for his role as the iconic Professor Hinkley, whose scientific schemes and ploys to get him and the other castaways rescued were always thwarted by Gilligan's bumbling.
During the show's three year run on CBS, critics slated the show as "insipid".  But after its cancellation in 1967, it attracted a new generation of fans through reruns and reunion movies.  In a 2004 interview, Johnson explained the show's appeal to generations upon generations of fans.
"Parents are happy to have their children watch it.  No one gets hurt.  NO murders, No car crashes.  Just good, plain, silly fun – that's the charm.", he said.  He also mentioned that after Gilligan's Island was cancelled, he had a hard time finding work, although he harboured no hard feelings for the show, often appearing in fan conventions with Bob Denver who plays Gilligan, the bumbling first mate of the island.
Johnson also appeared in various films.  To name a few, he was in the movies "MacArthur", "The Greatest Story Ever Told", "It Came from Outer Space", and "Law and Order", where he took a gun fight with then film star, Ronald Reagan.
In the late 1990's Johnson appeared in TV shows such as "My Two Dads", "Dynasty" and "Newhart".
Johnson died of kidney failure at his home in Bainbridge Island, Washington on the 16th of January, 2014.  He was surrounded by his third wife and two kids.
Former Gilligan's Island's cast mates, fans and friends have expressed their well-wishes, sympathy to the bereaved family, as well as funeral quotes to the veteran actor on Facebook and other social networking sites.  Some even dedicated funeral songs to the actor.
Dawn Wells, who played Mary Anne in the show posted on her Facebook page: "My 2 favorite people are now gone.  The professor past (sic) away this morning.  My heart is broken.  Russell was a true gentleman, a good father, a great friend, and 'the rest'. "
To date, there are only two surviving members of the original cast of Gilligan's Island:  Mary Anne played by Wells, and Ginger, played by Tina Louise.
http://tranquilityfuneralservice.com/wp-content/uploads/2017/07/Screen-Shot-2017-07-11-at-4.20.50-PM-300x81.png
0
0
http://tranquilityfuneralservice.com/wp-content/uploads/2017/07/Screen-Shot-2017-07-11-at-4.20.50-PM-300x81.png
2014-01-24 00:00:00
2014-01-24 00:00:00
"Gilligan's Island" actor, Russel Johnson dead at 89