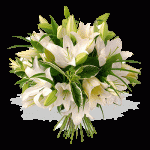 There are specific kinds of casket flower arrangement that are being used these days. It is not always appropriate to use those that are made for other occasions in the casket flowers display. This differs from the ordinary flowers that may be used in a holiday, get well sentiment, or a birthday celebration. Many times if the funeral is for a woman, families choose her favorite flower and colors before having it arranged.
Color is very important in preparing the arrangement. Though you can select any color, you want to be mindful that it is the last homage you are paying to that person therefore you want to make it a bit special. It is also the arrangement that everyone at the services will primarily see. Therefore it would be best to have it presented in a special way. Remember that special arrangement is not measured on the size but on its ability to relay the message of sympathy.
Long stemmed blooms are usually the best choice for casket flowers. They give the florist the ability to create the "spread out" appearance that will look symmetrical atop the coffin. Long stemmed, large plant leaves and greenery are utilized quite a bit both underneath and within the display. This not only adds to the length and width impression, the shine on the leaves brings forth the differences in each of the greens hues. Smaller greenery is used inside the display to highlight the blooms. These manual processes add to the expense of overall casket flowers.
When you view the selections you will be in the right position to choose the one you think would suit the honored person the most. There are opportunities to save on the use of cheap flowers delivery. The overall ritual of losing a loved one is both financially and emotionally high. Since there are already online flower shops, you just need to spend an average of fifteen minutes to completely finish all the flowers needed: the casket flowers, with the required arrangement, the ceremony flowers, and mausoleum service.
Casket flowers arrangement is the last gift that we may give our loved ones. We have to make this special. Remember that loss is a part of life; we will all pass through this difficult stage in life. If you are experiencing the sadness of loss at this time, may you find assurance that they are at peace now.
Article Source: http://EzineArticles.com/?expert=Jasmine_Bloom
http://tranquilityfuneralservice.com/wp-content/uploads/2017/07/Screen-Shot-2017-07-11-at-4.20.50-PM-300x81.png
0
0
http://tranquilityfuneralservice.com/wp-content/uploads/2017/07/Screen-Shot-2017-07-11-at-4.20.50-PM-300x81.png
2010-11-20 00:00:00
2010-11-20 00:00:00
The Significance of the Casket Flower Arrangement