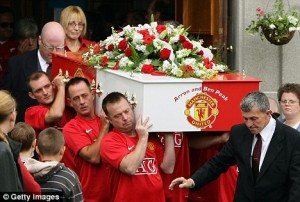 During a service or a funeral memorial for the deceased, the mood is usually sad partly because death is not something that people can easily accept over the course of a few hours. Families usually find it very difficult to function properly in planning out all the necessary preparations for the service and the burial because they are still caught up with their emotions.
One very easy way to bring life to the service without making too much effort is to follow a color theme during the event. This is the latest trend in funerals and this is almost similar to a wedding wherein the aspects of the event including the materials used will be using one or a few colors.
Here are a few ways on how to achieve a color themed funeral:
Even if caskets are made with the basic colors of black, white, silver, or other traditional ones, you can definitely add color to the interior portion of the casket especially if this is the request of the deceased family member. The inner fabric of the casket where the body will be laid can be made with the same color as the theme.
The invitations for the funeral service and all the thank you cards that you will be sending out to families and friends should also follow the same color as the theme. You can add designs that are specific to that color or you can use a shade of paper that is similar to the motif that you have chosen.
During the memorial service, it is always a good gesture to serve food to the guests. Although not all types of food can follow the color theme that was assigned to the event, you can still do a color themed selection by adding a few cupcakes or candies for the kids that have the same color as the motif.
The funeral flowers that you will be placing in the church and on top of the casket must also follow the color of the theme. When friends ask you on the kind of flowers that they can send, you may request them to send flowers with specific colors or dominant shades. 
http://tranquilityfuneralservice.com/wp-content/uploads/2017/07/Screen-Shot-2017-07-11-at-4.20.50-PM-300x81.png
0
0
http://tranquilityfuneralservice.com/wp-content/uploads/2017/07/Screen-Shot-2017-07-11-at-4.20.50-PM-300x81.png
2012-10-17 00:00:00
2012-10-17 00:00:00
Color Themes: The New trend in Funerals