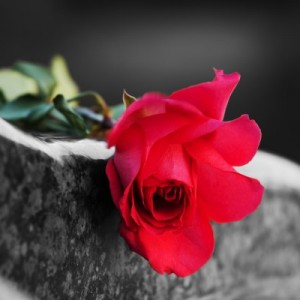 For someone grieving for the loss of a spouse, Valentines day can be a sad and lonely day.  Heart-shaped boxes of chocolates, red roses and champagne will bring about a feeling of cold nostalgia and desolation instead of that usual warm and fuzzy feeling.
And the feeling gets magnified when you pass by couples enjoying a lovely walk on the park, hand in hand, or having a romantic dinner or lunch in some restaurant.
So how do you survive this holiday in one piece?  By remembering your loved one.
Death may have robbed you of the opportunity to spend this day with the one person you cherished the most.  But it has not taken away the memories and the relationship you have formed with him or her.  Make this a day of remembering.  Honor his or her memory through these activities:
Pay your loved one a visit.  He may not be able to enjoy the funeral flowers you have brought him, or hear the funeral songs you have dedicated or sung to him.  But this will give you some peace of mind, knowing that somehow, you celebrated this occasion with him.
Honor your usual Valentines tradition.  If you both used to enjoy a candlelit dinner followed by a moonlit stroll by the park, then there's no reason why you shouldn't go through it this year.
Look back through picture albums and scrapbooks of your life together, or listen to the songs you both enjoyed.
If you cannot bring yourself to do any of these things, then it's perfectly OK.  For some people, doing the things or going to places that remind them of their deceased loved ones can amplify their feeling of loneliness and longing.
Don't fret if you're one of these people as there are other things you can do during Valentines day to ease the burden.  You can volunteer in a local shelter or hospice, or sign up to a volunteer program.  Doing something good can help ease the pain and uplift your spirit.
You can also reach out and talk to others who are going through the same ordeal as you are.  There are forums or support groups where you can share your feelings and thoughts with those who are also grieving for the loss of their loved ones.
http://tranquilityfuneralservice.com/wp-content/uploads/2017/07/Screen-Shot-2017-07-11-at-4.20.50-PM-300x81.png
0
0
http://tranquilityfuneralservice.com/wp-content/uploads/2017/07/Screen-Shot-2017-07-11-at-4.20.50-PM-300x81.png
2014-02-14 00:00:00
2014-02-14 00:00:00
Coping with grief during Valentine's day