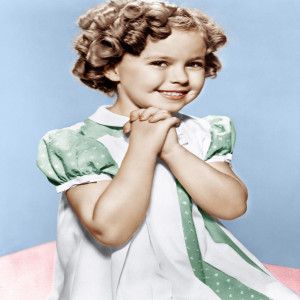 People remember her as the brown-eyed and be-dimpled little sweetheart who warmed the hearts of movie-goers circa Depression Era.  Shirley Temple, the most popular child star of all time, died on February 10, 2014.  The family won't disclose the cause of death.  She was 85.
She is survived by three children, as well as grandchildren and great grandchildren.
Talented, charming and adorable, Temple was America's top box-office draw in 1935-1938, saving saving 20th Century Fox from bankruptcy with movies like Curly Top and Littlest Rebel.  To date, no child star has ever come near to breaking her record.
Her popularity has also spawned a great number of merchandise that has capitalized on her wholesome image, such as dolls, dishes and clothing.  A drink was even named after her:  a befittingly sweet cocktail of grenadine and ginger ale, topped with a maraschino cherry.
Unfortunately, her transition from child star to teen actress was not what she hoped it would be.  While she blossomed into a beautiful young woman, moviegoers lost interest.  The typecasting has sent her career spiralling down and finally, at the age of 21, she has retired from acting.
She raised her family with her second husband of more than 50 years, Charles Alden Black who have sadly passed away in August 4, 2005.  Later on, she concentrated on her political career, which included being ambassador to Czechoslovakia during the fall of communism in 1989 and several other posts in the Republican administration.
Temple, (privately known as Shirley Temple Black) was the recipient of many awards and honors recognizing her contribution to the American cinema.  To name a few, she has received a Lifetime Achievement Award from the American Center of Films for Children and a Screen Actors Guild Lifetime Achievement Award.  In her honour, a life-size bronze statue of the child star was erected in the Fox Studio lot on September 11, 2002.
Close friends and fans, young and old, has expressed t sympathy to the bereaved family and well wishes through funeral songs, poems and quotes on various social networking sites.
Arrangement for private funeral services are still pending as of February 10, 2014, but a remembrance guest book will soon be opened in shirleytemple.com.   
http://tranquilityfuneralservice.com/wp-content/uploads/2017/07/Screen-Shot-2017-07-11-at-4.20.50-PM-300x81.png
0
0
http://tranquilityfuneralservice.com/wp-content/uploads/2017/07/Screen-Shot-2017-07-11-at-4.20.50-PM-300x81.png
2014-02-13 00:00:00
2014-02-13 00:00:00
Iconic Child Star Shirley Temple Black Dies at 85