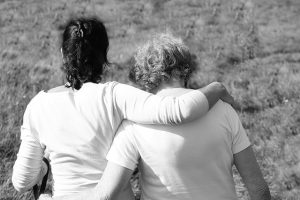 On an icy road one night
A young man loses his life
They marked the shoulder with a cross
An' his family gathers round
On a piece of Hallowed ground
Their hearts are heavy with their loss
As the tears fall from their eyes
There's one who'll always sympathise
God only cries for the living
'Cause it's the living that are left to carry on
An' all the angels up in Heaven
They're not grieving because they're gone
There's a smile on their faces
'Cause they're in a better place than, mmm, baby, than, oh
God only cries for the living
'Cause it's the living that are so far from home
It still makes me sad
When I think of my Grand-dad
I miss him each and every day
But I know the time will come
When my own gradnson
Wonders why I went away
Maybe we're not meant to understand
Till we meet up in the Promised Land
God only cries for the living
'Cause it's the living that are left to carry on
And all the angels up in Heaven
They're not grieving because they're gone
There's a smile on their faces
'Cause they're in a better place than, oh, baby, than oh
God only cries for the living
'Cause it's the living that are so far from home
Yeah, we're so far from home, Mmmm, Mmmm
Diamond Rio is an American country and Christian country music band. The band was founded in 1982 as an attraction for the Opryland USA theme park in Nashville, Tennessee, and was originally known as the Grizzly River Boys, then the Tennessee River Boys. It was founded by Matt Davenport, Danny Gregg, and Ty Herndon, the last of whom became a solo artist in the mid-1990s. After undergoing several membership changes in its initial years, the band has consisted of the same six members since 1989: Marty Roe (lead vocals, rhythm guitar), Gene Johnson (mandolin, guitar, fiddle, tenor vocals), Jimmy Olander (lead guitar, banjo), Brian Prout (drums), Dan Truman (keyboards), and Dana Williams (bass guitar, baritone vocals).
"God Only Cries" is a song recorded by American country music group Diamond Rio. It was released in April 2006 as the only single from their Greatest Hits, Volume 2 compilation album. The song reached #30 on the Billboard Hot Country Songs chart. The song was written by Tim Johnson. The song talks about how fragile human life is, and how we can be gone in a matter of seconds. It also talks about how the deceased is reunited with God and that the living should be happy that our loved one is already in heaven.
Please visit our website to find more funeral songs and funeral poems.
http://tranquilityfuneralservice.com/wp-content/uploads/2017/07/Screen-Shot-2017-07-11-at-4.20.50-PM-300x81.png
0
0
funeralservices
http://tranquilityfuneralservice.com/wp-content/uploads/2017/07/Screen-Shot-2017-07-11-at-4.20.50-PM-300x81.png
funeralservices
2019-05-07 16:50:27
2019-12-05 17:17:45
God only cries by Diamond Rio