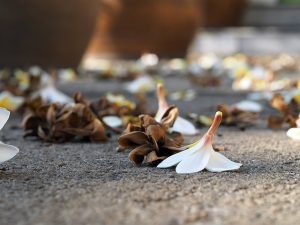 We just finished our dinner and
I'd gone in the den and turned on the TV.
When she walked in and kissed me
on the cheek like a million times before.
And she said "Honey, I know It's late.
But if you don't mind, My shoppings gotten a little behind.
So I think I'll drive downtown to the grocery store."
Well.. I didn't look up, Just nodded OK and asked her to
hand me an ashtray.
And when she did, I reached over and squeezed
her hand, And then she left.
And I shuddered a minute
At the thought of my world without her in it.
And I reassuringly sought the touch
of my wedding band.
Well.. I musta been dozing,
'cause I didn't hear the door.
And I thought now that's strange,
I've never done that before.
But I looked up, And she was standing by my chair.
"Kinda snucked in on me" I said,
And she smiled and nodded her head.
And I told her that she looked just like an angel
standing there.
For a long moment she didn't say a thing.
And then she caressed her gold wedding ring.
And I thought I saw a tear drop in her eye.
"Honey, You'll never know how much I love you"
She said.
And I thought of the many years that we had been wed.
As I told her that no one could be as happy as I.
And then the strangest feeling filled the room.
Not one of happiness but one of gloom.
And for the first time in my life, I saw sadness in her face.
I reached out to touch her, and she drew away.
And she told be again, That ours was a love..
That time could never erase.
And then I thought I heard a thousand voices singing
But I realized it was the telephone ringing.
And that's when I saw the halo
Surround her pretty golden hair.
I turned trembling to the receiver and heard a cold voice
say there had been a wreck out on the highway.
And I knew that when I looked back, She wouldn't be there.
Because it was an angels way of saying our last goodbye.
Woodrow Wilson "Red" Sovine (July 7, 1917 – April 4, 1980) was an American country music singer and songwriter associated with truck driving songs, particularly those recited as narratives, but set to music. His song The Last Goodbye is one of his hits and it talks about the sudden passing of a loved one and the initial shock that comes right after. It talks about how anything can happen and how things can quickly change in a snap of a finger. The lyrics suggests that we must cherish every moment that we have with our loved ones, as we will never know if it would be the last time that we will see them again.
As Red Sovine brilliantly wrote, he talked about how the love of his life went out and never came back as she was a victim of a car crash. Coincidentally, Red Sovine has a heart attack while he was driving, and his car crashed. He was rushed to the hospital and he eventually passed away in 1980. This is one of the instances wherein an artist was able to connect his death to his work.
Please check our website to view more funeral songs and funeral poems.
http://tranquilityfuneralservice.com/wp-content/uploads/2017/07/Screen-Shot-2017-07-11-at-4.20.50-PM-300x81.png
0
0
funeralservices
http://tranquilityfuneralservice.com/wp-content/uploads/2017/07/Screen-Shot-2017-07-11-at-4.20.50-PM-300x81.png
funeralservices
2019-05-19 14:54:22
2019-12-05 17:17:45
The Last Goodbye by Red Sovine