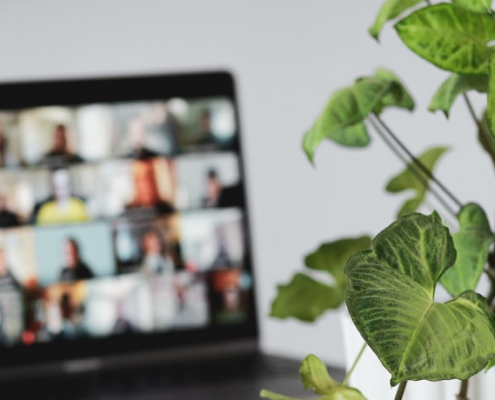 Sadly, the pandemic strips us of the most important component of funeral services, which is social support. With strict government regulations in place to prevent the spread of the coronavirus, funeral homes and crematoriums have to comply with strict social distancing measures and limit funeral attendees.
On top of that, travel restrictions and economic issues, like jobs lost due to lockdown, make it very difficult for people to participate in a service. When you cannot gather to share your grief and memories during these trying times, it may make it difficult for you to find closure. Fortunately, you can optimize technology to create a meaningful service that commemorates life in spite of strict protocols.
The Popularity of Online Memorials
The rise of streaming platforms like Zoom or even Facebook Messenger Group Calls makes it easy for you to gather virtually with your friends and loves ones. Holding a cyber-memorial service as an alternative to real-life traditional gatherings helps lessen the blow. Thanks to technology, you can bridge time and distance. Now, you can comfort each other across the miles as you share a common grief.
Being able to honor the memory of your deceased loved one together can help you find support and encouragement collectively in spite of the physical distance. This "new normal" practice has gained traction over the past year, and it may just stick around for the years to come because of its benefits. Let's take an in-depth look at what this trending virtual service is all about and how you can effectively plan one.
The Keys to Planning an Effective Virtual Funeral 
A successful virtual funeral is a great way to celebrate the life of your dearly departed. You can tailor fit the event to suit your needs. It can be the real-time live stream of a religious service and funeral itself with few key attendees. You can ask your funeral director if they offer tech help with the camera, microphone, lighting, and internet connectivity. If they don't, you can seek the help of an events company. Then, send the streaming link to your close family and friends so they can view it from the comforts of home.
Moreover, you can also choose to hold a teleconference memorial after the burial with family and friends. If you have limited finances, it's enough to use Zoom or other streaming services from your phone or PC. Just pick a time that's convenient for you and forward the digital invitation to your guests. The service can include readings, songs, speeches, memorial slideshows, or other remote activities like lighting candles. On top of that, you can even choose to record everything to serve as a digital memento.
This virtual method is a great way to accommodate loved ones who live far away. It is also the best solution to accommodate space limitations set by the pandemic. Just give your guests a Zoom link or an access key to other portals. Thanks to technology, all your dear family members and friends can participate in the funeral program for your dearly departed love one.
The Benefits of Holding This Modern Service
When you cannot hold a service, this virtual alternative is the best solution. You can also opt to append a traditional funeral service with a virtual component. Whether it is completely online or only partly digital, you can enjoy the following benefits of this modern service:
Assures safe social-distancing: It will be difficult to do social distancing with a big, in-house funeral. Some also feel uneasy wearing masks. With a virtual service, you can invite family and friends to participate without compromising their comfort. Funeral streaming services assure people can condole together from the safety of home.
Allows people from far away to attend: Even pre-pandemic, it is expensive and difficult for family and friends across the miles to travel. Attending a sudden funeral service can be costly because last-minute bookings cost an arm and a leg. With a virtual gathering, you take that burden away because they can participate no matter where they are located.
Helps minimize expenses: It can be expensive to host a traditional funeral because you need to book a large venue and prepare a reception fare. With a virtual funeral, you save your resources because everything is more economical and simplified than an in-person gathering.
Final Wrap Up
A virtual funeral is a great way to leverage technology to celebrate a person's life. Of course, it cannot truly replace physical presence. After all, there's something cathartic in a gentle hand squeeze or a love-filled hug when you are mourning. However, when it is not physically possible to gather together, preparing an online memorial service is still an effective way to help everyone endure the pain of loss. Send off your deceased loved one and pay your last respects with a virtual service that celebrates a beautiful life well-lived.
http://tranquilityfuneralservice.com/wp-content/uploads/2017/07/Screen-Shot-2017-07-11-at-4.20.50-PM-300x81.png
0
0
funeralservices
http://tranquilityfuneralservice.com/wp-content/uploads/2017/07/Screen-Shot-2017-07-11-at-4.20.50-PM-300x81.png
funeralservices
2021-03-13 15:29:36
2021-05-13 16:26:42
How do I plan a virtual funeral service in this pandemic?