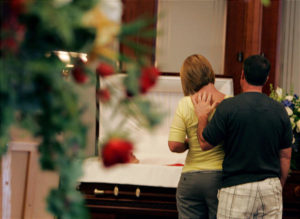 Many funeral homes set aside a few hours on certain days to allow the family of the deceased to receive whomever would wish to condole with them.
If you are the bereaved family
When you are the one charged with the funeral planning, be sure to confirm with the funeral director the exact hours and days that they set aside for the viewing. You can then pass around this information to your relatives, the deceased's colleagues and friends. Ensure that a family member is present for the duration of the visitation hours. Place a guest book where the visitors can sign in without interfering with the prayers or any other activity.
If you are visiting
Since you may not have met any of the immediate family, introduce yourself first and let them know your association with the deceased. Depending on your closeness to them, you can offer your heartfelt sympathy in person or by leaving a note. Sign on the guest book so they will have a record of your visit. You can then opt to spend a few moments before the casket to offer your prayers. Be considerate of the schedule given for the visitation, and avoid any awkward situations by not arriving too late or staying too long.
Source: http://connect.legacy.com/profiles/blog/show?id=1984035%3ABlogPost%3A11578
http://tranquilityfuneralservice.com/wp-content/uploads/2017/07/Screen-Shot-2017-07-11-at-4.20.50-PM-300x81.png
0
0
http://tranquilityfuneralservice.com/wp-content/uploads/2017/07/Screen-Shot-2017-07-11-at-4.20.50-PM-300x81.png
2011-09-28 00:00:00
2011-09-28 00:00:00
How to Conduct a Viewing