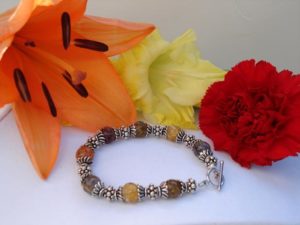 During the funeral, flowers are sent by your family and friends to show their sympathy. For many years, funeral flowers have been used to symbolize not only grief but also hope for the family.
Most of the flowers used in funerals are simply thrown away or are burnt. But for some people who would want to use the flowers as memorabilia, they incorporate them into beads and form jewelry.


If you want to do this process too, you can follow these easy steps.
Before starting the project, make sure that you go to the nearest craft store and purchase polymer clay. If you have not heard about polymer clay before, this is clay that will harden after baking. Many jewelry makers use this material to make beads and this is also going to be the material that you will be using to make yours. Polymer clays can come in small packs and there is also a wide variety of colors.
After the funeral or the service, make sure that you grab enough flowers for this project. Choose different types of flowers so that there will be a variety of colors. You can even throw in a few leaves. Just make certain that the funeral services are done so that the flower arrangement won't be disturbed.
Crush the flowers with your hands to break them down into smaller bits. Pound the flowers with the same color first. As you progress with the project, you can combine different colors of petals.
Get the polymer clay and heat it with your palms. This way, the clay will be more easily manageable and workable. Knead it with your hands and fingertips. If you allow the clay to stand in the cold, it will become stiff again.
Get the crushed petals and knead them into the clay. Add enough amounts that the petals would show. But do not add too much because it would lead to clumping and the petals would stick out.
Pinch a small amount and form it into a circle or oval bead. Get a toothpick or a wire and pinch a hole across the middle of the bead.
Place the bead in a tray lined with baking paper and put it inside a preheated oven. Follow the time specified in the polymer clay packaging. Allow the beads to cool before touching them because they will still be soft if they are hot.
Get a thread and string different beads to form a bracelet.
http://tranquilityfuneralservice.com/wp-content/uploads/2017/07/Screen-Shot-2017-07-11-at-4.20.50-PM-300x81.png
0
0
http://tranquilityfuneralservice.com/wp-content/uploads/2017/07/Screen-Shot-2017-07-11-at-4.20.50-PM-300x81.png
2012-06-25 00:00:00
2012-06-25 00:00:00
Making Funeral Flowers into Beads for Jewelry