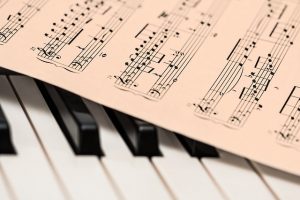 Italian Text
Nessun dorma! Nessun dorma!
Tu pure, o, Principessa,
nella tua fredda stanza,
guardi le stelle
che tremano d'amore
e di speranza.
Ma il mio mistero è chiuso in me,
il nome mio nessun saprà!
No, no, sulla tua bocca lo dirò
quando la luce splenderà!
Ed il mio bacio scioglierà il silenzio
che ti fa mia!
(Il nome suo nessun saprà!…
e noi dovrem, ahime, morir!)
Dilegua, o notte!
Tramontate, stelle!
Tramontate, stelle!
All'alba vincerò!
vincerò, vincerò!
English Translation
Nobody shall sleep!…
Nobody shall sleep!
Even you, oh Princess,
in your cold room,
watch the stars,
that tremble with love and with hope.
But my secret is hidden within me,
my name no one shall know…
No!…No!…
On your mouth, I will tell it when the light shines.
And my kiss will dissolve the silence that makes you mine!…
(No one will know his name and we must, alas, die.)
Vanish, o night!
Set, stars! Set, stars!
At dawn, I will win! I will win! I will win!
Nessun Dorma is a tremendously powerful song that has swept the hearts of people worldwide. The song has first heard an aria of a three-act opera by Giacomo Puccini and others but was popularized and turned into a household name by the legendary Luciano Pavarotti who sang it live in the 1990 FIFA World Cup. Since then it became a staple in many important sporting events that followed and became referenced in many pop culture staples. The immense sheer power of this song cannot be overstated and must be heard to be fully felt and understood. Simply put, the impact of this song is indeed timeless and is a testament to the strength of the human will to triumph against all odds – even in the face of death itself.
To put a bit of context to the song, this masterpiece was a part of a play called Turandot which premiered in 1926. A part of the play was about The Unknown Prince and his quest to woo Princess Turandot. The prince fell in love at first sight with Princess Turandot but it turned out that this princess had many other suitors vying for her affections. So, she devised a test where her suitors would answer three riddles and the one who got them all correctly would get the princesses' hand in marriage. The ones who would fail would be killed. Long story short, The Unknown prince got them all correct but the princess felt a bit reluctant to marry this strange man.
So, the nameless prince gave the princess a chance to opt out of the deal she herself made. The prince said that evening that if she could guess his name correctly he would subject himself to be executed by the princess come daybreak. The princess then ordered all her palace servants to work overnight in order to give her the correct name for her persistent suitor. She ordered that no one was allowed to sleep and if the man's name would not be discovered, all of her servants would be killed.
The song is sung in the final act where the prince was walking around the moonlit palace gardens, feeling certain of his victory whilst crying out, "Vanish, o night!/ Fade, you stars!/ Fade, you stars!/ At dawn, I will win! I will win! I will win!"
When listening to the song alone, it would appear to be just your ordinary carpe-diem songs but when you look at the context surrounding it, it surely is filled with death, which is perfect for our theme in these articles if you are looking for a good funeral song you'd want people to hear in your funeral ceremony one day.  This song signifies that even in the throes death, your spirit remains triumphant, that you will not go gently into the night. Against, all insurmountable odds, you are a prince who rejoices in victory, Pyrrhic as is it may be, no matter how Quixotic your journey was, it no longer matters. You are a bold prince, ready to face his maker and look him straight into the eye and say, "I will win! I will win! I will win!"
http://tranquilityfuneralservice.com/wp-content/uploads/2017/07/Screen-Shot-2017-07-11-at-4.20.50-PM-300x81.png
0
0
funeralservices
http://tranquilityfuneralservice.com/wp-content/uploads/2017/07/Screen-Shot-2017-07-11-at-4.20.50-PM-300x81.png
funeralservices
2018-12-06 15:11:10
2019-12-05 17:17:45
Nessun Dorma (Various Artists)