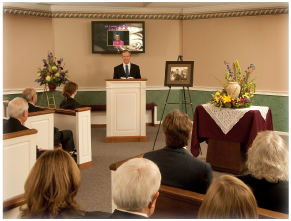 Each family can have special funeral services to honour deceased loved ones based on the traditions and culture. But in most areas of the world, funerals always have the same parts that are common with each other.
If you are preparing or planning a service to pay respect to your loved one, getting familiar with the parts of a funeral will help you in understanding the flow of events during that day.
The Wake. The first part which follows the death of the deceased individual is the wake where friends and family can visit and honor the deceased. This part is optional to some families who do not want viewing of the coffin or the urn before it will be buried. But for many families, visitation is important because it allows friends and other family members to see the deceased one last time before he will be put in his final resting place. This is also the time when the family and friends grieve with each other since the death is still very fresh in everyone's memory.
Tribute. The next part of a typical funeral is the tribute. This is the time when friends and family gather together to say their final words to the deceased loved one. This is also the time when funeral flowers are being offered in the church or in the funeral house. Stories about the deceased are also shared to the group.
Procession. This is the part where the coffin or the urn will be transported to the final resting place. If it will be a typical burial, the procession will lead to the cemetery. If ashes will be scattered, the place will be determined.
Interment. The interment is the part of the funeral where the casket will be lowered to the ground or the ashes will be scattered to the area.
Reception. The reception is the gathering after the funeral has been completed. Although this part is really not necessary, it is a good time to share a few laughs with friends and family following the burial.
http://tranquilityfuneralservice.com/wp-content/uploads/2017/07/Screen-Shot-2017-07-11-at-4.20.50-PM-300x81.png
0
0
http://tranquilityfuneralservice.com/wp-content/uploads/2017/07/Screen-Shot-2017-07-11-at-4.20.50-PM-300x81.png
2013-05-28 00:00:00
2013-05-28 00:00:00
Parts of a Typical Funeral