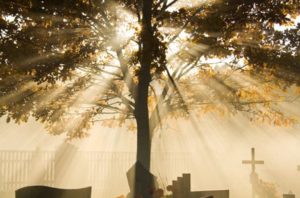 On top of all the hassles you go through in funeral planning for your loved one, you have to prepare for a eulogy. Since your grief is making you upset and unable to focus, you may want to set up a contingency plan just in case you will get a into a fit of hiccups during your delivery or any other possible disasters.
Give a copy to someone else.
Funeral homes have plenty of rooms and nooks where you can leave misplace or lose the text of the eulogy that you went to great lengths to prepare. To prevent last-minute panic over this, print a few copies and have someone you trust hold one for you so you can have a back-up when you need it.
Have the survivors read it in advance.
You may have known the deceased person and all the skeletons in his closet and had a good laugh with him over them in his lifetime. If you had included a few personal anecdotes in your eulogy, be sure to have the immediate family read it first so there will be no surprises or awkward moments for them.
Prepare for your own emotions.
Being carried away by your grief is normal so have a bottle of water and a box of tissues on hand before taking the floor. You can also assign someone to take over just in case you would be too distressed to go through it.
Source: http://dying.about.com/od/funeralsandmemorials/ht/write_a_eulogy.htm
http://tranquilityfuneralservice.com/wp-content/uploads/2017/07/Screen-Shot-2017-07-11-at-4.20.50-PM-300x81.png
0
0
http://tranquilityfuneralservice.com/wp-content/uploads/2017/07/Screen-Shot-2017-07-11-at-4.20.50-PM-300x81.png
2011-09-15 00:00:00
2011-09-15 00:00:00
Sneaky Backup Plan for Eulogy Writing and Delivery