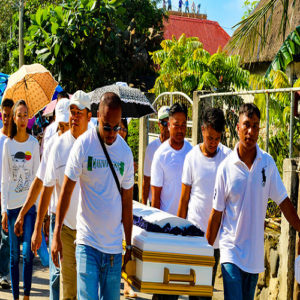 To say that funerals are overwhelming is an understatement. There are a lot of things going on akin to a frenzy of emotions that sometimes push people to their breaking points. Apart from personally dealing with the death of a loved one, one aspect of death is a struggle for many: Money.
Most are not financially fortunate to have lavish funerals. That's why sometimes, the task becomes a lot more burdensome. The good news is there are plenty of ways to cut back on funeral costs. In fact today, we are here to help you organize an affordable funeral.
Below we will let you know as to why funerals can become expensive. Moreover, we will include the standard prices of funerals as well as tips on how to plan a more cost-effective funeral.
After all, it's not how much you spent on the ceremony. It's the sincerity and efforts that count.
Average cost of burial and cremation in Canada
Canadian Funerals report: "In the case of a burial, embalming is an additional cost, plus dressing, a viewing, vehicles required, services of a celebrant and the list goes on.  A traditional burial can start at around $5,000 but can quite easily amount to a cost of $15,000."
When it comes to cremation: "A simple, direct cremation in Canada can start at around $600, whereas a cremation with a service, and extra disbursements (obit notice, viewing, funeral flowers, etc), may cost in the region of $4,500.  As mentioned above, cremation service costs will vary depending upon your province and area.  For example a low cost cremation can be obtained in some areas of Quebec for as little $587, in Vancouver for $995 and in Toronto for $1,400, whereas in New Brunswick a simple cremation can cost almost $3,000."
Common funeral pricing checklist
"Simple" disposition of the remains:
Immediate burial __________
Immediate cremation __________
If the cremation process is extra, how much is it? __________
Donation of the body to a medical school or hospital __________
"Traditional," full-service burial or cremation:
Basic services fee for the funeral director and staff __________
Pickup of body __________
Embalming __________
Other preparation of body __________
Last expensive casket __________
Description, including model # __________
Outer Burial Container (vault) __________
Description __________
Visitation/viewing — staff and facilities __________
Funeral or memorial service — staff and facilities __________
Graveside service, including staff and equipment __________
Hearse __________
Other vehicles __________
Total __________
Other Services:
Forwarding body to another funeral home __________
Receiving body from another funeral home __________
Cemetery/Mausoleum Costs:
Cost of lot or crypt (if you don't already own one) __________
Perpetual care __________
Opening and closing the grave or crypt __________
Grave liner, if required __________
Marker/monument (including setup) __________
Tips to cut funeral costs
Here are the following ways you can aim for a more affordable funeral and lessen financial burdens.
Compare funeral home prices
There are various funeral homes in your area for a good reason. Each offer varying prices, which means you need to carefully consider what a funeral home has to offer given their rate.
Save money for the casket
If you're going for a traditional burial service, a casket can be one of the most expensive components of the funeral. Instead of buying it from the funeral home, consider looking for a third party seller. Contrary to popular belief, you don't need to buy everything from the funeral director or home.
Consider direct cremation
Cremation is more affordable than a traditional funeral service. Save even more by choosing a direct cremation wherein no extra services will be done. Once the remains have been reduced to ashes, the next thing to do is to lay these ashes in your desired final resting place.
Consider another venue
Just because you're already working with a funeral home, doesn't mean you have to use their existing facility as well. Consider looking for other venues to cut down on expenses. Most families nowadays hold the service at the comfort of their home or of someone they know.
Don't hesitate to negotiate
Most funeral homes are more than compassionate to help you have the best yet most affordable service a beloved departed can have. So don't hesitate to negotiate. Meet halfway with the funeral director or home. If you can negotiate for special packages or discounts, do so.
Trim the service down
We all want the best service to pay tribute to our beloved departed. However, financial shortcomings may prevent this from happening. So if you need to trim down on certain things, don't hesitate to do so. Don't buy the most expensive flowers. Consider potluck for in-between meals and snacks. Don't hire too many people to add to the service. Focus only on what matters. At the end of the day, what counts is that you and your loved ones have done everything to the best of your ability.
http://tranquilityfuneralservice.com/wp-content/uploads/2017/07/Screen-Shot-2017-07-11-at-4.20.50-PM-300x81.png
0
0
http://tranquilityfuneralservice.com/wp-content/uploads/2017/07/Screen-Shot-2017-07-11-at-4.20.50-PM-300x81.png
2016-06-12 00:00:00
2016-06-12 00:00:00
Cost Cutting Tips for an Affordable Funeral