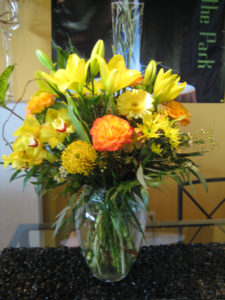 Flowers are widely used by humans in a variety of occasions from birthdays, anniversaries, graduations, until the death of a person. In every usage of flowers, the arrangement, the colors, and the types of floras used can convey a different message to the recipient.
In the case of a death or a funeral, a flower can be a symbol of sympathy but it can also be a sign of hope for the grieving family.
There are different ways on how guests, friends and other family members can offer funeral flowers to the deceased and their grieving families.
Flower Sprays and other Arrangements. If there will be a service for the deceased, it will be nice if you could send the family a flower spray or an arrangement which will be displayed with the coffin during the service. When sending large flower sprays, it is always a good etiquette to ask the family if you can send one since not many chapels allow numerous flower sprays near the coffin.
Bouquet of Flowers. Once you find out about the death of a family member of your friend, it will be a kind gesture to call your local flower shop and ask to deliver a bouquet of flowers to the family of the deceased. Find out the favorite flower of the deceased so you would know what to send, or you can match the flower with the current season.
Flower Bushes. There are also people who would prefer to give flower bushes because they still grow and flourish compared to flower arrangements that just die after a few weeks. There are memorial gardens that offer flower bushes to be put on the plot where the caskets will be placed in commemoration of the deceased.
Tree. You can also purchase or have a tree planted in the memorial garden and have a plaque placed around it to dedicate the tree to the deceased. The tree will symbolize hope and optimisms as it grows and flourishes.
http://tranquilityfuneralservice.com/wp-content/uploads/2017/07/Screen-Shot-2017-07-11-at-4.20.50-PM-300x81.png
0
0
http://tranquilityfuneralservice.com/wp-content/uploads/2017/07/Screen-Shot-2017-07-11-at-4.20.50-PM-300x81.png
2013-02-19 00:00:00
2013-02-19 00:00:00
Different Ways in Offering Funeral Flowers