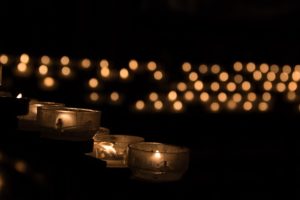 We have all lost someone near and dear to us to a thief called death. Sadly, dying is an inevitable part of life that no one can escape. Apart from the pain directly caused by the loss, planning a funeral can take its toll on the immediate family. It is hard to write the death announcement, along with figuring out the details of the ceremony.
Whether it is a long term illness or a sudden demise, death is difficult to accept, and healing will take time. Losing a loved one has the potential to affect the lives of the bereaved greatly. It manifests in the physical and emotional aspects, sometimes with a lasting impact. Read on to understand how death can affect a family and why it is important to be kind, patient, supportive, and understanding to those who are grieving.
1. Children grow up without knowing their loved one
When a person experiences losing a loved one as a child, this can have many long term psychological effects. A child who has lost a mother or father will grow up with a missing piece because of the absence of one parental figure. This can lead to personal issues like self-identity crisis and difficulty establishing healthy relationships with people.
Studies show that children who were not able to process the death of a parent properly grow up with abandonment issues. They search for love and comfort elsewhere. They look for substitutes and may end up in the wrong relationship. Guidance is paramount for those who lose a parental figure to ensure that kids grow up in the right direction.
2. Can cause strain on relationships
Grief-stricken people often need time to process pain and emotion correctly. If the grief is not managed and handled properly, this can lead a person to feel heavy issues and volatile feelings that become an emotional baggage. One who cannot move on from the death of a family member may have difficulty maintaining other relationships because of emotional instability.
When one is moody or depressed, it can lead to withdrawal. This can, in turn, cause miscommunication and misunderstandings. Unfortunately, these things have the power to create rifts in family ties and can even sever relationships. The death of a loved one has the potential to divide a family without proper grief management. This can be avoided if a family consults a specialist or copes through healthy methods like holding open discussions or dialogues to provide an avenue for emotional expression.
3. May affect the lifestyle
There is no doubt that a family member's death can drastically alter the household's routine, priorities, and overall lifestyle. To many, losing a family member will cause a significant change in family dynamics, particularly if the deceased is the household's breadwinner. How do you pay for your mortgage and basic needs when no one is earning? This poses a difficulty to grieving family members since it would mean making adjustments in spending habits and lifestyle choices.
In addition, this also means rearranging schedules and changing routines, which many bereaved family members find challenging to do. If the missing family member is used to picking up the children to and from school, who will be tasked to do it now that the person is gone? The life of the ones left behind is forever altered when their loved one passes on. As such, it is crucial to have a good support system. If you know someone in a similar situation, now is the time to offer a helping hand.
4. Posses a huge financial burden
Burials and cremation services cost a large sum of money. For many families around the world, this expenditure is too big a cost to bear. Often, people are caught off guard when someone dies, so they are ill-prepared. Families are shattered financially by a loved one's death, especially if they find cannot afford it. Those who do not have insurance plans find themself using up their savings. This leaves the bereaved with a heavy financial burden that can strain their lifestyle and relationships with one another.
With this in mind, the heads of families need to perform proper planning, which involves getting the right insurance coverage, conducting estate management, and procuring funeral investments ahead. When you plan for the future, you secure your family in case of an emergency or other unforeseen circumstances. The last thing any person should be worrying about when someone dies is the financial aspect so that they can grieve in peace!
Final Word
It is normal for family members to react differently when they experience a closed loved one's death. As individuals try to cope with changing roles, it can result in complicated emotions and untoward behavior. While each person is going through their journey, it can be difficult to connect with one another. The important thing to remember is always a beacon of hope that will readily offer support during these trying times.
http://tranquilityfuneralservice.com/wp-content/uploads/2017/07/Screen-Shot-2017-07-11-at-4.20.50-PM-300x81.png
0
0
funeralservices
http://tranquilityfuneralservice.com/wp-content/uploads/2017/07/Screen-Shot-2017-07-11-at-4.20.50-PM-300x81.png
funeralservices
2020-06-05 16:59:18
2021-01-09 01:59:01
How Can Death Affect a Family