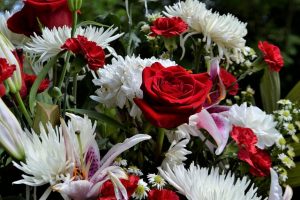 A lot of events come to mind when we think about picking flowers. Social events like a wedding, a christening, a debut, Proms, etc. all associate to carrying flowers since each flower symbolizes a meaning. Aside from these events, attending the funeral of your loved one is also not complete without bringing a flower. The most common flowers chosen in a funeral are red or white carnations, red rose, and any white flowers.
Picking a funeral flower is not the first that will come to mind when we are planning a funeral. Planning already gives you so many things to decide upon, and you also have to deal with the loss of your loved one. You won't have a problem when your loved one has their favorite flower, or if you have a specific flower that you associate them with
Apparently, in some religious institutions, like Judaism and Muslim, flowers are not customary in a funeral. In Catholic, Mormon, and Christian funeral, flowers are one of the gifts you can give or send to the family. Most of them deliver sympathy flowers to the grieving family, along with a message of condolences.
Sympathy flowers are commonly sent a few days after announcing the news. You can write a simple message in the sympathy card and use the favorite flower of the deceased. If you live far away and you want to send sympathy flowers, send them to the grieving family. If you want, you can bring them in person and attend the wake and burial of the deceased.
Funeral Flowers are not supposed to be sent to the grieving family. You can send them to the funeral director instead so they can place the flower in the burial ceremony. Funeral Flowers are not similar to sympathy flowers because they are larger than the flowers you get in a traditional bouquet.
There are different types of arrangement to be chosen, for funeral flowers, these are:
Casket Sprays- The deceased family is the ones who purchase this. They are quite large and stay placed on top of the coffin on the wake and burial.
Funeral Posies- The flower arrangement is usually bought by a distant relative or children for a funeral. Posies are used because of their round-shape. It's one of the well-known flower arrangement used to bring in a funeral because they are small and they look perfect in different angles.
Floral Crosses- If the deceased or its family is religious, they use this type of arrangement to bring honor and to help their loved one reach the heavens. It can also serve as a tribute and decoration in a ceremony or wake.
Funeral Sheaves- Sheaves are a great alternative for the traditional bouquet people use at a funeral. It is the most common funeral flower arrangement used because they are an affordable tribute, and they complement black and white themes. Funeral sheaves are hand-tied with flowers like lilies and flowers, especially if accompanied by ribbons.
Funeral Cushions- This can be used and chosen as the perfect condolences flowers. If you are having difficulty choosing an arrangement, Funeral cushions also symbolize as the deceased taking their rest.
Funeral Wreaths- Wreaths are a bit more expensive than the other funeral arrangements. But wreathes suits best to send to the family as a tribute. Funeral wreaths are often used as a decoration for funeral homes and can also be used in the burial.
You shouldn't be careless about choosing a flower. Every flower holds meaning, and here are a few flowers that are usually picked for funerals.
Roses
Roses are one of the most common flowers suitable for a funeral. Roses are also known for having a variety of colors with different meanings. They are easy to complement with other flowers or leaves in bouquets or a funeral tribute.
You can choose to pick a suitable color for the funeral, or you can go with red roses since it symbolizes love.  Pink symbolizes gratitude and thankfulness to the deceased, yellow symbolizes the friendship bond, and white rose means purity and a promise to heaven.
Chrysanthemums
Chrysanthemums or mums have different meanings around the world, but it's mostly known as a symbol of sympathy and honor, which can give great meanings at a funeral. Mums are also correlated with death in France since they usually use this flower to commemorate the dead.
Lilies
Lilies are one of the known flowers used in a funeral flower arrangement. The flower's meaning is innocence and purity. One of the reasons why funeral homes use lilies is it signifies that the soul of the deceased has returned to peace. Ancient people also believed that the tomb of the Blessed Virgin Mary got covered by lilies.
You can easily distinguish the scents of lilies because they smell the same when you go to funeral homes.
Carnation  
Like roses, the carnation has a variety of colors, and each has a different meaning. White symbolizes innocence, red means affection, and pink carnation that was believed to have been created by the tears of the Blessed Virgin Mary.
Many florists and funeral homes use carnations as standing sprays or wreath because they look beautiful, and they can also mean the incarnation of God because of its name.
Some relatives and friends who lived far away would find it hard to travel to your city. Being able to pick the perfect flower and choosing the right arrangement can show your sympathy and love for the deceased and their family. If sending flowers takes a lot of time, you can donate instead or ask a close family member to buy the specific flower arrangement for you.
http://tranquilityfuneralservice.com/wp-content/uploads/2017/07/Screen-Shot-2017-07-11-at-4.20.50-PM-300x81.png
0
0
funeralservices
http://tranquilityfuneralservice.com/wp-content/uploads/2017/07/Screen-Shot-2017-07-11-at-4.20.50-PM-300x81.png
funeralservices
2019-10-22 15:02:03
2019-12-05 17:17:28
How to Pick Flowers for a Funeral