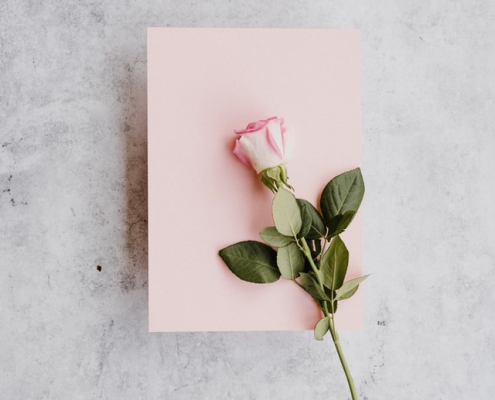 It is a common practice to send a condolence card with funeral flowers during memorial services or even after the proceedings are over. Usually, people just buy a nice card and put in the standard words like: "You have my deepest sympathies," "I am sorry for your loss," or "Our deepest condolences." All are comforting words that show care and support.
However, if writing a short message on the card feels insufficient for you because you are very close with the deceased, or you may also have a special relationship with the grieving family members, then you can show your affection through some other means.
You can actually write a longer note on the card and put some tokens within to help ease pain while honoring the deceased's memory at the same time. Consider the following simple suggestions below, which you can insert with your condolence card.
Show Appreciation for the Deceased
Sharing a good memory you had of the deceased to their loved one can be a source of comfort since it shows that others thought highly of their family member. Using kind words like "kind-hearted, lovely, good-natured, and purposeful," to describe the deceased and the time you have spent together helps refocus the loved one's attention to your appreciative story rather than the fact that they are grieving.
Be intentional and purposeful with your word choices to convey your feelings. Mourning family members value sentimental stories about their dearly departed loved one as it shows them many facets of the person viewed through the eyes of others.
Offer Help If You Can
Someone who has recently suffered from the loss of someone dear will need time to mourn. During their healing process, it may be difficult for them to get into the right head-space for doing chores and other responsibilities for the first few weeks. Offer to help the bereaved do their yard work, watch their children, or even be a shoulder to cry on. You can even include a cleaning gift card to your favorite home cleaning service.
These may seem small, but they can definitely move mountains in the lives of those who are grieving. Include words like "I am here for you; let me know if you need anything." Let them know that you are there for them, and you are ready to lend a helping hand if need be. After all, no man is an island, and a sound support system is something everyone should have.
Include Prayer Intentions
If you are praying for the loved ones of the deceased, do let them know through your card. Some people send prayer booklets, thin medallions, and small prayer sheets within their condolence cards. Death is something that transcends religion. No matter what faith anyone believes in, it is very calming to hear that someone is asking for the intercession of blessings on your behalf.
It is in times like these where people need the comfort of knowing that somewhere, someone is praying that they get through this predicament. Words like "I'm praying for you," or "you are always in our thoughts and prayers," can help the bereaved feel much better. After all, there is something comforting about the fact that other people have you on their minds.
Add Quotes and Words of Encouragement
These times in life are surely difficult for everyone because getting left behind in this world by the person you love is always painful. There are times when people can lose themselves entirely throughout the grieving process. Because of this, include inspirational funeral quotes or encouraging words to help the bereaved get through this melancholic period in their lives.
You may include a bookmark with a special quote or include a small booklet of inspirational wordings with your card to cheer up the grieving family members. Sometimes, people just need to hear words of encouragement for them to feel better and feel consoled.
Insert Old Pictures
Sending pictures along with your condolence card is a beautiful way of honoring the memories that you have shared with the deceased. This also allows for the departed's family members to see him or her in the way that you did. They will feel consoled seeing that their loved one lived a beautiful life and touched many other people.
The picture will also serve as a beautiful memento of the deceased. Moments are fleeting, but memories and photos last a lifetime. A picture will be a significant reminder of a life that has been well-lived.
Financial Aid
Let's be honest, planning a funeral is not cheap. Flowers are expensive, the casket costs a lot, plus there are embalming procedures and the fact that you have to pay for the burial lot. Those who opt for cremation services will also feel a pinch in their wallets.
Whether the family may need it or not, offering financial aid will help lessen the burden of these expenses, because dying and burying someone comes at a hefty price tag. Offering financial aid will also help the family focus on their healing rather than the numerous costs that need to be paid for.
Final Word
Getting in touch with mourning family members is a way to show your love and support. Don't feel shy about going the extra-mile by giving something concrete because people who have lost someone needs positive affirmation. Take a few minutes out of your busy life to pen sincere words and add tokens to your condolence card. A compassionate heart makes the world a better place.
http://tranquilityfuneralservice.com/wp-content/uploads/2017/07/Screen-Shot-2017-07-11-at-4.20.50-PM-300x81.png
0
0
funeralservices
http://tranquilityfuneralservice.com/wp-content/uploads/2017/07/Screen-Shot-2017-07-11-at-4.20.50-PM-300x81.png
funeralservices
2021-04-30 16:10:38
2021-05-13 16:41:18
Things To Include In Your Condolence Card