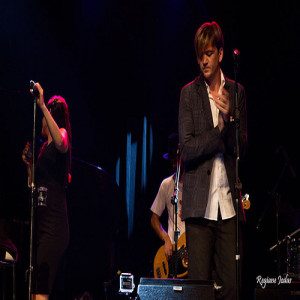 The whole world came into a halt Monday morning after rock and roll chameleon, David Robert Jones—better known as David Bowie, suddenly passed away at the age of 69. Reports have confirmed that the iconic singer died of liver cancer, which he has been battling in secret for the last 18 months. He died peacefully in his home surrounded by his loved ones.
"David Bowie died peacefully today surrounded by his family after a courageous 18-month battle with cancer. While many of you will share in this loss, we ask that you respect the family's privacy during their time of grief," read a statement posted on his official Facebook page.
Bowie was renowned for his genre and gender-bending genius transcending generations and was widely revered as a music, fashion, film and art icon. Constantly reinventing himself throughout the years and adapting a variety of personas including Ziggy Stardust and Thin White Duke, David Bowie was the only one of his kind.
Born David Robert Jones in January 1947, he reinvented himself as David Bowie in 1966. From then one, he was set to make a strong, indelible mark in the industry.
Decades-spanning career
In his decades-long successful career, David Bowie released 20 studio albums along with dozens of singles. After his 1969 single "Space Oddity" was released, it became an instant hit throughout England but it would take about four years for Bowie's prowess to be appreciated in America.
His 1971 album entitled "Hunky Dory" remains as one of his greatest works to date. It showed off David Bowie's powerful vocals, clever musical compositions and still, with the extraordinary flavor he never fails to bring to the table. The haunting songs like "Life on Mars", and "Oh! You Pretty Thing" rocked the '70s generation.
His artistic world breakthrough came after releasing "The Rise and Fall of Ziggy Stardust and the Spiders From Mars" in 1972—the album that would later on define him as the otherworldly performer set to redefine the notion of being a rock star. The smashing album included the now timeless hits like "Starman", "Suffragette City" and "Rock 'n' Roll Suicide".
Until now, Bowie was the only one known to have flawlessly fused British mod with theatrics and Japanese kabuki-styles showcases along with his signature flamboyance that gave rise to his androgynous alter ego, Ziggy Stardust. He later then killed off this alter ego back in '73 and proceeded to bring Aladdin Sane, which solidified his everlasting popularity in the United States.
As Aladdin Sane, he came up with the hits "The Jean Genie", "Drive in Saturday" and "All the Young Dudes", a track he collaborated with singer and friend, Lou Reed. During his US tour, he managed to create his next album, "Young Americans" in Philadelphia. Bowie later on continued with his surprisingly funk and class act, "Station to Station", which included the hit single, "Golden Years". Fans from all over the globe couldn't get enough it that he even landed on the Soul Train. Yet again, the brilliant man proved that he's capable of doing absolutely anything.
Bowie bagged a number 1 single with his hit collaboration with Queen entitled, "Under Pressure". It continues to be one of the most played songs over the globe and it never fails to recapture the energy and dedication the Thin White Duke has always put out in every effort.
Once again, he yearned for something different. He moved to Berlin and brought to life his acclaimed albums, "Lodger", "Heroes" and widely-praised, "Low".  Come 1983, a fresh and driven Bowie resurfaced with yet another album entitled, "Let's Dance". It included groundbreaking hits like "China Girl" and "Modern Love".
His other albums that equally garnered considerable success were "Never Let Me Down", "Black Tie White Noise", "Outside", "Hours.." and "The Next Day". Just two days after his birthday this year, he released the album, "Blackstar", which brought back to life the beguiling talent of David Bowie. Little did fans know that it was to be his final album, his farewell, as his loved ones believe.
Even in film, he shared his infinite artistry, appearing in "The Man Who Fell to Earth, "Just a Gigolo", "Labyrinth", "Merry Christmas, Mr. Lawrence", "Zoolander" and "The Prestige, to name a few.
He is survived by his wife and supermodel Iman, whom he married in 1992; his son, director Duncan Jones; and daughter Alexandria.
http://tranquilityfuneralservice.com/wp-content/uploads/2017/07/Screen-Shot-2017-07-11-at-4.20.50-PM-300x81.png
0
0
http://tranquilityfuneralservice.com/wp-content/uploads/2017/07/Screen-Shot-2017-07-11-at-4.20.50-PM-300x81.png
2016-01-18 00:00:00
2016-01-18 00:00:00
Iconoclast David Bowie Dies at 69