"Raging Sea" – performed by Michael W. Smith
Sometimes the journey makes you weary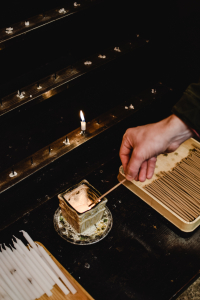 Feels like a long and winding road
Sometimes this life can lose its meaning
But you might be surprised to find some hope
Maybe you're wondering where love is
You may fell it's far away from here
Maybe you're wondering where I am
You might be surprised to find I'm near
[Chorus]
And when your life is tossed and turning
And you are on the raging sea
I'll come and pull you from the water
Then you will know that you are free
So if you're stumbling through the valley
Or if you're tempted to give up the fight
Reach out your hand and I will lead you
I will be your strong arm in the night
The immediate family of a deceased individual is often the group of people who are devastated of the loss of their loved one. There is often that feeling of hopelessness, defeat, and the repetition of the question "what if".
One of the songs that may help uplift the emotions and the moods of the devastated family members is "Raging Sea" which is performed by Michael W. Smith. The song was written by Smith himself and Paul Baloche.
After the caskets of the deceased are buried and their spirits or bodies are finally put to their resting place, the struggles of the family do not end there. When these people go home, they will have this emptiness in their hearts because of the loss. Many people will feel as if they won't be able to carry on with their lives.
The lyrics of this song empower those people who are already in the brink of giving up. The song also tells the listeners that the souls of the loved ones who have passed away will always be watching over their families and they will serve as their guardian angels.
Every now and then, when you feel sad that you have lost someone in your family, you just have to take the time to feel his presence around you. When you feel like your life has no more meaning because of the loss, just think that your deceased loved one would want you to carry on and become a better person.
To look for more inspirational and meaningful funeral songs, visit www.songmeanings.net.
https://tranquilityfuneralservice.com/wp-content/uploads/2012/12/pexels-eva-elijas-5777186-scaled.jpg
2560
1707
admin
http://tranquilityfuneralservice.com/wp-content/uploads/2017/07/Screen-Shot-2017-07-11-at-4.20.50-PM-300x81.png
admin
2012-12-15 00:00:00
2022-04-03 13:32:58
"Raging Sea" – performed by Michael W. Smith