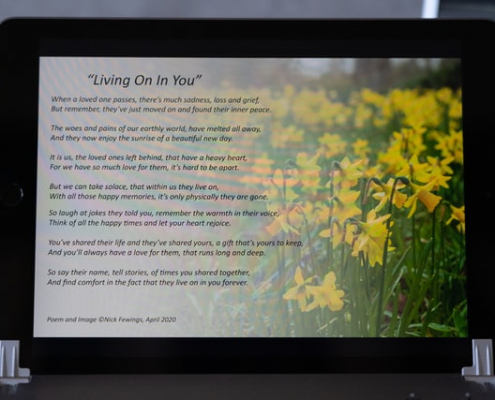 We live in a digital world with over 5 billion people owning a mobile device. Within this gadget, you will find at least two social media apps everyone uses to connect with others. Of course, staying on social media has become a new way of life where we have fun and learn what's happening worldwide.
However, it is very crucial to know how to use it properly, especially when it comes to sensitive matters like death. Though these channels can be a great tool in helping those who grieve feel loved, remembered, and supported, these platforms can also be very overwhelming when used wrongly in tumultuous times. Read on to help you handle social media after a death in your family or if you know someone who is currently grappling with death. Find out what's permissible in this digital age so you can follow proper mourning etiquette.
When Death Has Happened in Your Family
When someone in your family passed away, the key to effectively handling social media is to follow your instincts. You are in control, so set your own pace. Remember, you don't have to face the screen immediately because your family and friends understand that you need quiet time to grieve. You don't have to reply to all the private messages and comments on your wall straight away. And if you do feel like replying to everyone individually, making a general post to address your family and friends is completely understandable.
When you are ready, social media is also a perfect place to share past experiences to keep your loved one's memories alive. You can share the online obituary and ask these close to the deceased to share their favorite memories, too. While it may be quite emotional to deal with the onslaught of photos and anecdotes at first, this is an excellent way that allows you to honor the person you've lost.
Most of all, you must make an effort to handle the deceased's various social media accounts. If you are an immediate family member, you may have the password to access the accounts. You can inform everyone about the death under the departed's account if you feel up to it. But if you don't feel like it, you can just request the platform to revert the profile into a legacy account. When you present proof of death, along with other requirements, these social media apps will memorialize the account of your departed love one at your request.
Handling Social Media When Someone Passed On
If a friend experienced a death in their family, you must be very thoughtful and cautious about your comment or post. Though various platforms like Facebook, Instagram, or Twitter have become a part of how we grieve, it can be easy for posts to become crass if you don't exercise restraint. For starters, think about what you want to hear if you are in the same shoes. Empathy is key!
However, you must never post a death announcement without the family's permission. The cardinal rule to abide by no matter what social media platform you use is to respect the immediate family's wishes. It would be prudent not to reveal anything before they release a statement. Though you may have good intentions, do not post anything until you are certain that those close to the deceased have been informed, including best friends, because no one wants to learn this disheartening news via an impersonal medium.
When the right time comes, assess your relationship with the deceased. If there's no deep connection, simple words of condolences under a family member's status will suffice. If you are close to the deceased, making a stand-alone post on your wall by sharing a memory of the deceased is acceptable. However, adhere to the personality of the deceased and let this be your guide. For example, if the person is intensely private, an extremely detailed post is not appropriate. The primary concern is to make it about the deceased and not about you.
On the day of the funeral services, respect the family and stay silent if no guidance has been given regarding social media use. Do not post random tweets, status updates, or check-ins to a funeral home. Turn off your phone or set it to silent mode (making sure it doesn't vibrate loudly against anything) during the service. Don't mess with your phone either as a form of respect. And most of all, avoid funeral selfies at all costs.
Final Wrap Up
Letting the bereaved family members know you are thinking of them or sharing a memory of the deceased on social media can be a good way to offer support, especially if you live far away. However, remember do not to limit your responses on social media. If you genuinely want to show your love and concern, make a phone call, send a sympathy card, bring flowers, or cook for the bereaved. Though condoling via social media can be healthy, nothing can compensate for personal touches offline.
http://tranquilityfuneralservice.com/wp-content/uploads/2017/07/Screen-Shot-2017-07-11-at-4.20.50-PM-300x81.png
0
0
funeralservices
http://tranquilityfuneralservice.com/wp-content/uploads/2017/07/Screen-Shot-2017-07-11-at-4.20.50-PM-300x81.png
funeralservices
2021-05-30 16:31:20
2021-05-13 16:39:41
How to Utilize Social Media Responsibly After a Death in the Family