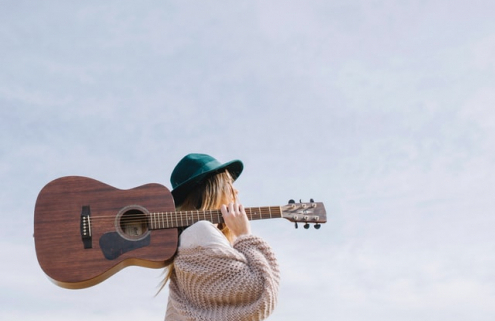 How far is heaven?
Let's go tonight, I want my daddy to hold me tight.
A little girl was waiting for her daddy one day
It was time to meet him, when she heard her mommy say
Come to mommy darling, please do not cry
Daddy's gone to heaven, way up in the sky
How far is heaven?
When can I go?
To see my daddy, he's there I know.
How far is heaven?
Let's go tonight.
I want my daddy to hold me tight.
He was called so suddenly, and could not say goodbye
I know that he's in heaven, we'll meet him by and by
The little girl trembled, her tears she could not hide
she looked up for heaven and then she replied
How far is heaven?
When can I go?
To see my daddy, he's there I know.
How far is heaven?
Let's go tonight
I want my daddy to hold me tight.
Song Interpretation:
Losing someone is unbearably painful. It is understandable if you have a hard time managing your emotions. You feel angry, sad, broken, upset, and more. All these dark feelings occupy your mind and heart. If you are the one tasked to plan a funeral, it can be nerve-wracking and stressful. You have an enormous responsibility on your shoulders. It is not easy to choose among burial plots, caskets, funeral flowers, and hymns.
If you are struggling to select what funeral songs to include in your playlist, take a deep breath and relax. There is no right or wrong song choice. Let your heart speak. After all, music has the power to express what you cannot say. At the same time, it can also soothe broken hearts and calm down frazzled minds.
A good funeral song for your loved one's memorial service is "How Far is Heaven" performed by Kitty Wells more than fifty years ago. The theme of this song is perfect because it shows that though death may have a massive impact on grieving family and friends, you can always count on a silver lining. You hold onto the belief that one day, you will see your departed loved ones in heaven, a paradise where there is no pain and suffering. And that is the most comforting feeling in the world!
Famous country music singer, Kitty Wells recorded this song at the beginning of her career. This heart-rending ditty was written by Tillman Franks, a bassist, and songwriter for many artists, and Jimmie Davis, a politician, and songwriter. This was recorded two years before Miss Wells debuted her number one hit called "It Wasn't God Who Made Honky Tonky Angels" in 1952.
As you can see, "How Far is Heaven" is an appropriate choice for a funeral service because it is a comforting classical piece that has withstood the test of time. This sweet song tells the story of a little girl who is eagerly waiting for her dad to come home. However, her mom said to her that daddy has now gone to heaven. Because she misses him too much, she wants to know how far heaven is so she can visit him.
The song also mentions that the girl is longing to meet her dad immediately as seen in the words, "Let's go tonight". Unfortunately, it cannot happen, so the young girl clings on to the belief that she will meet with her daddy again someday in this beautiful place. The message of this song is an excellent one because it helps you and the other mourning guests remember that there is always hope. One day someday, you can also see your loved ones again in heaven.
As you listen to the soothing melody, it will remind you that even though your loved one has gone too soon, you have to humbly accept this painful fate. The thought of seeing them again when you depart this ephemeral world is very reassuring for those who have to grapple with grief. Someday, there will be a blissful reunion for everyone in heaven where there is eternal life, along with endless happiness. After all, death is part of the natural cycle of life which everyone will face eventually.
For now, you just have to endure the pain and learn to function without your departed loved ones. It is important to note that only their earthly bodies have left, but their memories will forever touch your heart and influence your life. After everything is settled, you must move on. This doesn't mean that you forget your deceased loved ones. But by living your best life, you honor their memories and all their efforts to give you a happy life while they were still alive.
https://tranquilityfuneralservice.com/wp-content/uploads/2021/05/te-nguyen-Wt7XT1R6sjU-unsplash-495x400-1.jpg
400
495
funeralservices
http://tranquilityfuneralservice.com/wp-content/uploads/2017/07/Screen-Shot-2017-07-11-at-4.20.50-PM-300x81.png
funeralservices
2021-05-13 16:22:24
2022-01-30 15:44:31
How Far is Heaven by Kitty Well