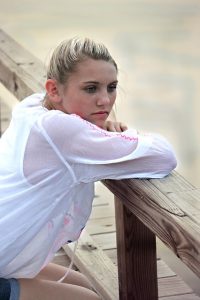 What if I said yes
What if I'd gone out that night
What if you'd turned left
Everything would've turned out alright
What if I'd spoke up
What'd if I'd took the keys
What if I had tried a little harder instead of always trying to please
Joey I'm so sorry
Oh oh can you hear me
Joey I'm so sorry
What if I'd said no
What if we'd never fell in love
What if we'd gone slow
Or a little bit faster and broken up
Would I know this hurt
Would I feel this pain
Do you know that with all I have left in my very last breath I will call your name
Joey I'm so sorry
Oh oh can you hear me
Joey I'm so sorry
Were you sad
Were you scared
Did you whisper a prayer to be free
Was it quiet and cold
Was it light or too dark to see
And did you reach for me
Joey I'm so sorry
Oh oh can you hear me
Joey I'm so sorry
Oh oh can you hear me
Joey I'm so
Joey I'm so, sorry
Perhaps one of the most painful experiences in grieving or even in life, in general, is to have somebody whom we love that was taken from us all too suddenly. Suddenly losing someone we love is something we would never anticipate, let alone think about. However, human life is very fragile, a suicide, a freak accident or a terminal illness can take away people's lives in one fell swoop. The negative emotion can be too great for some that people go in a state of denial. Then, comes the self-blaming. While this is perfectly normal for people going through the grieving process, for somebody who is actually experiencing it, nothing is all that simple. Sometimes, people just can't help but blame themselves.
This intense feeling of regret is something that the song Joey by Sugarland portrays accurately. The nagging thoughts of what could have been and its bitter aftertaste is what lingers in your tongue once you get to hear this country song.
The song is about Joey who was killed in a car crash. The speaker of the song was Joey's lover who asked a series of "what if's" expressing that things could have turned out differently if the speaker had done this or that and so Joey might have still lived. She further asked what if they never fell in love at all or broke up sooner, then the events in his life would not have lead to that moment of the car crash. The speaker continues on to apologize repeatedly to Joey, hoping the speaker would be heard. The song  overall, speaks about the regret of losing Joey and how the speaker would love him by stating that, "…with all I have left in my very last breath I will call your name." It is interesting to note, however, that despite the tragic story of its lyrics, the mid-tempo ballad, backed primarily by acoustic guitar and organ that is heard in the song gives off a feel-good joy-ride tune which is an ironic yet befitting to the theme of the song at the same time.
The song was generally received well. Sugarland is a musical duo with members, Jennifer Nettles, and Kristian Bush. They wrote Sugarland along with country singer Bill Anderson. According to the song's wiki article, "Joey" debuted at number 50 on the U.S. Billboard Hot Country Songs chart for the week of July 4, 2009. It reached a peak of number 17 in September 2009, becoming their first single to miss the Top 10 since "Down in Mississippi (Up to No Good)" also reached number 17 in 2006. The song also debuted at number 98 on the U.S. Billboard Hot 100 in late August 2009 and peaked at number 89. Many critics had praises for the song too, with writers such as  Chris Willman of Entertainment Weekly stating that it was the standout track of the album in which it belongs. Suffice to say, that Joey had a real emotional impact to people who listened to it perhaps because it captures the subject of grieving pretty well.
So, if you are planning a funeral for somebody whom you might have lost in a car accident, then Joey can be a suitable funeral song for you.
http://tranquilityfuneralservice.com/wp-content/uploads/2017/07/Screen-Shot-2017-07-11-at-4.20.50-PM-300x81.png
0
0
funeralservices
http://tranquilityfuneralservice.com/wp-content/uploads/2017/07/Screen-Shot-2017-07-11-at-4.20.50-PM-300x81.png
funeralservices
2019-01-21 15:42:48
2019-12-05 17:17:45
Joey (Sugarland)