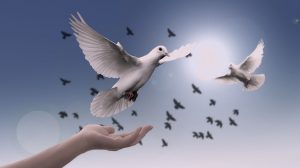 I heard, that you're settled down
That you found a girl and you're, married now
I heard, that your dreams came true
I guess she gave you things
I didn't give to you
Old friend, why are you so shy
Ain't like you to hold back
Or hide from the light
I hate to turn up out of the blue uninvited but I
Couldn't stay away I couldn't fight it
I had hoped you'd see my face
And that you be reminded that for me it isn't over
Never mind I'll find someone like you
I wish nothing but the best
For you too, don't forget me
I beg, I'll remember you said
Sometimes it lasts in love
But sometimes it hurts instead
Sometimes it lasts in love
But sometimes it hurts instead yeah
You know how the time flies
Only yesterday it was the time of our lives
We were born and raised
In a summer haze bound by the surprise
Of our glory days
I hate to turn up out of the blue uninvited but I
Couldn't stay away I couldn't fight it
I hoped you'd see my face
And that you'd be reminded that for me it isn't over
Never mind I'll find someone like you
I wish nothing but the best for you too
Don't forget me I beg, I'll remember you said
Sometimes it lasts in love but sometimes it hurts instead
Nothing compares no worries or cares
Regrets and mistakes their memories made
Who would have known how bittersweet
This would taste
Never mind I'll find someone like you
I wish nothing but the best for you
Don't forget me I beg, I'll remember you said
Sometimes it lasts in love but sometimes it hurts instead
Never mind I'll find someone like you
I wish nothing but the best for you too
Don't forget me I beg, I'll remember you said
Sometimes it lasts in love but sometimes it hurts instead
Sometimes it lasts in love but sometimes it hurts instead
"Someone like You" is a song by English singer-songwriter Adele. It was written by Adele and Dan Wilson for her second studio album, 21. It is the second single and final track on the album. The song was inspired by a broken relationship, and lyrically speaks of Adele's coming to terms with it.
In 2012, Someone like you was number 22 of the funeral music chart. While the tune, which is well-known for making everyone cry, is sure to get the tears flowing at a funeral, the underlying message may be somewhat offensive to the average cadaver.  Adele has stated the song is about her reaction to finding out that her ex-boyfriend is married. In the song's chorus, she declares she will just move on with a similar person.
But it can still be used by people as a song at a funeral as it talks about going through the heartbreak of losing someone, yet still having the hope of finding someone new. It also talks about healing from the pain of losing someone by moving on, and knowing that there will be someone out there that can give the same love and affection that the one who left gave.
To check out more funeral songs and funeral poems, please visit our website.
http://tranquilityfuneralservice.com/wp-content/uploads/2017/07/Screen-Shot-2017-07-11-at-4.20.50-PM-300x81.png
0
0
funeralservices
http://tranquilityfuneralservice.com/wp-content/uploads/2017/07/Screen-Shot-2017-07-11-at-4.20.50-PM-300x81.png
funeralservices
2019-09-01 14:28:56
2019-12-05 17:17:43
Someone like you – Adele