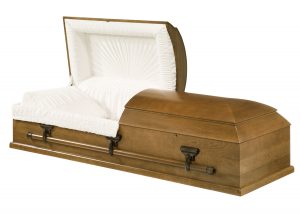 There is no need to dig deep into your pockets for a casket when you are planning a funeral. Yes, a casket is indeed one of the most pricey ticket items you will purchase for your dearly departed loved one. It is also the most challenging item to shop for because you get this sense of finality that your loved one is truly gone.
Why Caskets are Difficult to Shop For
These final resting vessels are big-ticket items that come in a broad range of prices and features. Thankfully, there are many fine-looking caskets for you to choose from in every price range.
Buying a casket is never easy, especially since you have to do so at a vulnerable period when you are grieving the loss of a beloved person. The pressure is also immense because you have to make a quick decision since your family is waiting for the final internment date.
Your best defense against overspending or making a sudden impulse purchase on a casket is to plan. Research over the internet to see what your options are. Even if you are pressed for time, educating yourself about different casket styles will give you the ability to still make a sound choice that won't break the bank.
Following a few simple tips outlined below will help you with your casket selection. The most important thing is to get a casket that meets your needs without putting a significant burden on your finances.
Set Your Budget  
A traditional casket will cost from a few thousand dollars to tens of thousands. To avoid buying more than you can afford, set a budget, and stick to it. If you are buying directly from a funeral home, the funeral director is required by law to show you a market competitive price list.
By getting a casket amount or figure, you can have an idea of how much money you should allot. If you think the prices in the funeral home are too steep, you can purchase a discount casket online. Do note that a funeral home is also mandated by law to accept caskets purchased from an outside source.
Think of the Preferences of the Deceased
If you are planning a service guided by instructions left by the deceased, then go ahead and follow the person's wishes. However, in most instances, people who pass away with a last will and testament do not usually leave specific information on their chosen casket style.
Should you be faced with this scenario, use the personality of your loved one to guide you in making your choice. If the deceased is very simple in real life, then this person will not be happy with an ultra-expensive casket. A simple wooden one will be a good option. You may opt for a Toledo brand simple fiberboard casket that costs around $800.
In contrast, if the one you are laying to rest has always preferred all the bells and whistles, then a pricier casket like a Coretta (20ga Steel) for $2,400 or an Eleanor Oak made of pure oak wood for $2,400 will be the best choice. These fancy caskets will mesh well with the personality of the one who will use it.  These brands contain eye-catching embellishments, memory drawers, ornate carvings, fancy cloth liners, and more.
Take Someone with You
It is best to take a family member or a friend when you go shopping for caskets. They can give you advice and offer your immeasurable support. Since funeral homes sell caskets, they typically offer the priciest ones straight away. Usually, these brands are the ones on display.
If you want to see the cheaper caskets, you may have to ask them to show it to you. Even though they are running a business, funeral professionals are compassionate human beings. They will always respect your choices and put your best interest at heart.
Opt for Unique Alternatives
If you are unhappy with the typical caskets you see in the funeral parlor or online, then you may want to go for creative alternatives. These unique caskets will not empty your pocketbooks, and instead, they will still allow you to bury your loved one with respect. Consider the following alternative choices below:
Simple Unfinished Wood Casket: This is one of the oldest forms of caskets, and they do still exist. They won't cost as much as the other caskets that are lined, embellished, and engraved with unique designs. For instance, a simple pine casket will cost around $500.
Wicker Coffins: A lot of people are now going for a "green burial." They don't want to harm mother earth with their casket choice. Most modern caskets take a long time to biodegrade. Woven willow caskets are a great alternative that costs less than a thousand dollars.
Cardboard Caskets: A super simple, unadorned cardboard casket is an excellent choice for people who have a tight budget. These are also great for an eco-friendly burial. This kind of casket will only set you back by around $200.
Cloth Caskets: In some religions, it is not uncommon to wrap their departed kin in blankets or swatches of cloth. If money is really an issue, going this simple route is still a dignified way to inter the dead. The best part about this is that you can use the deceased's favorite blanket, so you don't even have to spend much.
Perhaps, the only caveat of these more straightforward and cheaper alternatives is that these don't usually come with a viewing window. During a service, the casket will be closed, and no one can see the face of the deceased anymore. The solution that most people do is they place a beautiful picture of their dearly beloved on top of their alternative casket.
Final Word
If you find yourself overwhelmed when you are in the showroom, it is okay to step out and get a breather. Take all the time in the world so that you can choose the best casket for your loved one. You are also not pressured to buy a casket from a funeral home, so you can check alternate casket vendors to scout for the best prices.
Should you not have the budget to pick a pricey casket, this is not something to be ashamed of. The most important thing here is your honest intent to provide a touching and respectable burial that celebrates the life of your deceased loved one. No matter what casket you choose, the goal is for this dearly departed person to have an honorable resting place so that he or she can rest in peace for all of eternity.
http://tranquilityfuneralservice.com/wp-content/uploads/2017/07/Screen-Shot-2017-07-11-at-4.20.50-PM-300x81.png
0
0
funeralservices
http://tranquilityfuneralservice.com/wp-content/uploads/2017/07/Screen-Shot-2017-07-11-at-4.20.50-PM-300x81.png
funeralservices
2020-03-10 13:16:47
2021-01-09 01:59:40
Cheap Casket Alternatives that Will Not Decimate Your Wallet