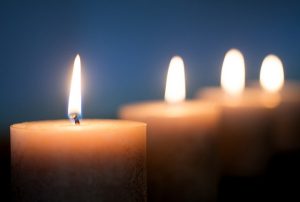 When you're busy with funeral planning, you may get confused about what to do. That is perfectly okay because everyone understands that you are in a great deal of emotional turmoil. Cut yourself some slack because you're already doing well in spite of being under a great deal of pressure. No one expects a perfect funeral service.
We also understand why you'd want a seamless funeral ceremony because this is your final farewell and your last chance to honor your dearly departed loved one. If you need ideas to organize your service, you can include a funeral program that helps in making the day of the memorial service seamless. Some refer to this funeral program as a "memorial folder", while some in the industry call it an "order of service".
What is a Funeral Program?
If you don't know what it is, don't panic! It's just a simple document that contains the pertinent details about the deceased. It also includes the schedule or the flow of events during the day of the memorial service. It is akin to a small flier or brochure to help deliver these invaluable pieces of information.
This funeral program is optional. It is certainly not a requirement for funeral ceremonies. However, most bereaved families like to print one out since it helps that guests follow the flow of the memorial service. It allows their visitors to participate and understand what is happening during the various ceremonies your faith may require you to do. It can also include information about who will be giving the eulogies.
More importantly, the funeral program can also be your last tribute to your deceased loved one as it contains succinct but pertinent information about the deceased's life. This funeral program can also serve as a souvenir for those who have come to pay their last respects to the departed. A funeral program is functional, but it is definitely sentimental in many ways.
Who Will Make this Special Program?
It won't be surprising if your chosen church or funeral home offers to collate the information, lay-out the text, and make the final design touches on the funeral program. Even a close relative who is adept in using a publishing software can do this on your behalf. The key is to be fully involved in the project, so you can encapsulate the whole essence of the deceased and incorporate the unique nuances of his or her beautiful life into the program.
Engaging in this artistic endeavor is very rewarding because apart from informing your guests, you can also use this chance to relive poignant memories that you've had with your dearly departed family or friend. When you participate in something like this, it gives you a chance to reflect on the past life and appreciate the presence of the one you are grieving. Going back down memory lane helps you surmount your cloud of grief when you realize that your departed loved one has lived a full life.
What Do They Look Like?
In general, funeral programs consist of four pages that are crafted from a standard-sized bond paper, measuring 8.5 by 11 inches. You fold this in half and put the pertinent information on all the four panels. You can choose to make it longer if you have a lot of things to say.
Some choose to be creative and make a three-fold brochure. Whatever you choose, working with someone adept at design and hiring a printer will make things a lot easier. It may also be more cost-effective in the long run because professionals have templates that make things faster and a lot easier. The best part, it takes away a big burden of producing several copies away from you.
What are the Contents?
If you're wondering what parts to include in your funeral program, there are several details that you must include. The most important is the cover which will state the program title. It could be something like In Memoriam, In Loving Memory, A Celebration of a Life Well Lived, No Goodbyes but Only See You Later, and the like. The cover also includes these essentials:
A photo of the deceased, along with his or her complete name
The deceased's date of birth and reason for death
A favorite quote or inspirational adage that is the deceased's favorite
The inside pages will include a short biography of the deceased. You may choose to place the one you made for the obituary. It will also contain the flow of your service: how the events will unfold, who is the officiant, who be giving the eulogies, who will sing, and the like. You can also choose to incorporate your chosen music, poems, readings, rituals, and other funeral prayers.
If a religious service is going to happen some include the flow of the ceremony in the inside pages. A scripture passage can also be included. Most of all, the inside pages will include the internment details and the funeral reception information such as the venue and time.
Bottom Line
You may choose to include all these parts, or you can add more information about whatever you think best epitomizes the life of the person you are grieving. The purpose of having this funeral program is to remember and honor your loved one. Apart from that, you will help his or her other close friends remember that beautiful life that he or she lived to the fullest. There are no strict ways to design this funeral program. In all honesty, the best ones are those that show the traditions, cultural heritage, and preferences of the one whose life you are celebrating.
http://tranquilityfuneralservice.com/wp-content/uploads/2017/07/Screen-Shot-2017-07-11-at-4.20.50-PM-300x81.png
0
0
funeralservices
http://tranquilityfuneralservice.com/wp-content/uploads/2017/07/Screen-Shot-2017-07-11-at-4.20.50-PM-300x81.png
funeralservices
2019-12-11 14:25:41
2021-01-09 02:00:07
What Do You Need to Make a Funeral Program? A Comprehensive Guide